Sweeney's Bothy residency in Eigg was delivered in partnership with Bothy Project earlier this year. We caught up with selected VAS Member Jo Pudelko and asked her to reflect her time on the island:
---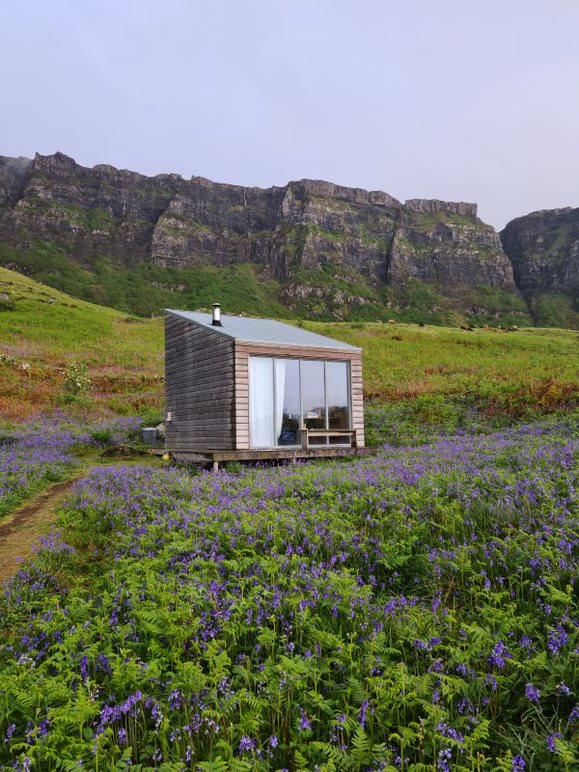 In March 2021 I was thrilled to hear that I had been selected by Visual Arts Scotland and Bothy Project for a residency at Sweeney's Bothy. The Bothy sits beneath the cliffs of Cleadale in the northeast of the Isle of Eigg, a community owned island with spectacular landscapes and abundant wildlife. Visitor's cars are not generally permitted on the island so in early June, with a heavy rucksack and my bike I boarded a small boat for the short journey from Mallaig to the island. A normal week for me would be a non-stop mix of teaching, admin and meetings with jewellery making taking a bit of a back seat so a weeklong residency in an off-grid, island bothy was a perfect chance for me to recalibrate my practice.
When I do have a chance to create work, I normally employ a diverse range of processes in my practice that include casting, carving, etching, laser cutting, powder-coating and textile techniques - in addition to traditional metal work techniques. I specialise in the use of found objects with casting being a particular passion - casting directly from a range of household and industrial found objects. My studio work consists of both mixed-media jewellery and small-scale sculptural objects.
Materials Matter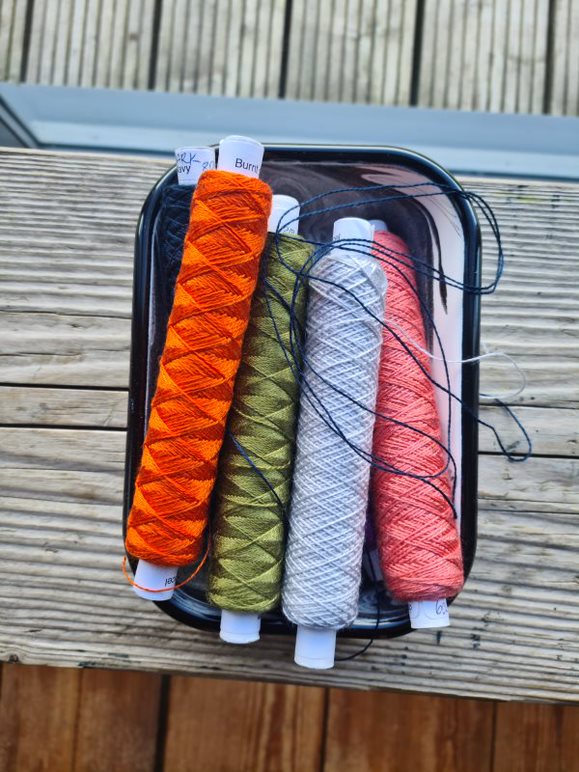 I would also normally consider myself a material-driven designer, which means I like materials. A lot. And I have a lot of them. Some purchased, some donated, some found on the ground. Being able to see the potential in a variety of non-precious materials is a fantastic gift (it also can make you a fantastic hoarder). But this treasure trove (or midden) of materials always provides me with a way forward. There is always value in materials. Even if it is the hidden value in what many people consider garbage. Designers can transform humble materials into works of art and I enjoy the variety that working with unusual materials brings to my practice. I have however become less and less comfortable about working in virgin plastics – a material which has featured predominately in my work up to this point
Like many other creative practitioners, I have also begun to turn my attention to the necessity of moving my business to a sustainable model and applying principles of the circular economy to my output. The opportunity provided by the residency was an integral part this journey as it allowed me a clean break with convenience and competing interests and allowed me to refocus my attention on the questionable distance between societal expectations of 'success' and the ethical and environmental equivalents.
Initially the opportunity of a week-long residency at Sweeney's Bothy had particularly piqued my interest as I had hoped it would provide a small, inspirational glimpse into my own future. The bothy is off-grid, meaning it has a photovoltaic (PV) panel generating enough electricity to provide lighting and allow you to charge a mobile phone/laptop/camera but not much more. The time and unique environment at Sweeney's Bothy provided the perfect conditions for me to explore designing sustainable pieces that follow cradle-to-cradle design ideals that considers what might happen to the piece at the end of its life. With this in mind I restricted myself to bringing a limited range of hand tools and only materials that were completely biodegradable to work with.
Before travelling to Eigg I carefully considered which suitable materials I already had access to. I feel strongly that although my practice is evolving, it is equally important to consider the materials that are already sitting in my studio rather than purchasing new. Luckily, I was able to lay my hands of an interesting variety of wood and some Tencel - a plant-based yarn. I am often drawn to working in bright colour so while on Eigg I used the Bothy's wood-fired stove to colour the wood using a variety of natural dyes. In addition to the few jewellery hand tools I brought my vintage rug tufting tool and began to teach myself hand tufting techniques (with variable results!) in the evenings.

Power up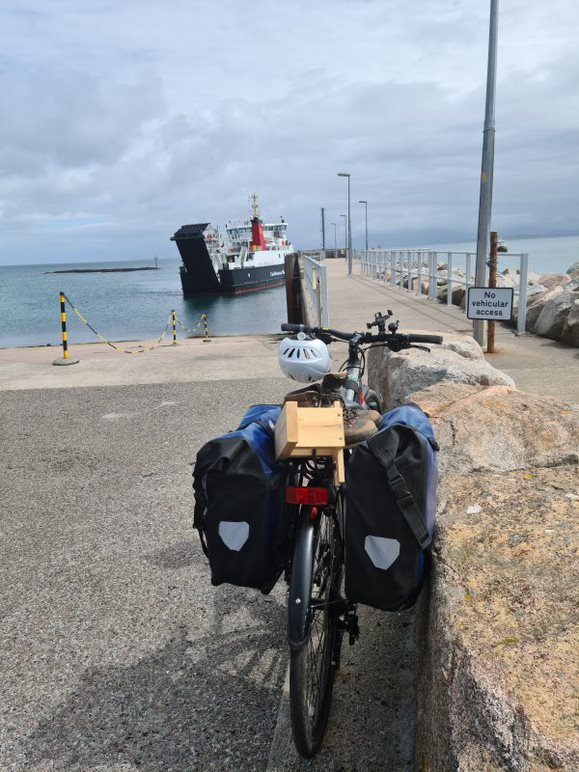 For some time now, in addition to my jewellery work, I have wanted to redesign some of the jewellery 'tools of the trade' to remove our reliance on electrical energy. Inspired by vintage treadle machinery I hope to design simple, multi-purpose, human-powered items of equipment that jewellers at the start of their career typically struggle to afford. Much like the Precious Plastic movement, I want to make the plans open-source so jewellers around the world can build their own treadle polishers, treadle lathes, treadle anything! An idea that is as good for the planet as it is for your thigh muscles. (I'm very much looking for clever people to collaborate on this so if this sounds like you – get in touch!)

Although I knew I would be unable to progress this part of my project while on the island, I still wanted to be able to generate some of my own electrical power using my bicycle. After initially considering a self-build dynamo/generator my research led me to a recent US startup called Pedalcell. Their clever contraption clipped to my bike generated electricity as I cycled around Eigg delivering power to two USB-c ports. It's a brilliant update on the old rim dynamos that were often used to power bike lights.
The poor Pedalcell however had a rough introduction to the Isle of Eigg after the ferry was cancelled and the bike (with Pedalcell already attached) was transported strapped to the front of a small wildlife tour boat. It arrived drenched with seawater, deposited unceremoniously onto the Eigg pier in the driving rain. The following (sunny) day I set out for my initial attempt to generate some human-powered electricity to discover the charging cable was no longer attached to the Pedalcell. Disaster! The morning was spent re-tracing the previous afternoon's journey asking every passing islander and tourist to keep their eyes peeled for a tiny piece of black cable only 5cm long! For all I knew, it could have been at the bottom of the sea however later that day two walkers then handed in my charging cable to the Eigg shop. It had dropped unnoticed on the road the previous day during my initial cycle to the Bothy in the rain while holding a map. The cable had certainly been run over several times and I was informed frequently by my phone that 'moisture has been detected in the charging port' but amazingly the Pedalcell still worked! Having to cycle everywhere on the island allowed me to regularly charge my phone without needing to rely on the solar panels at the Bothy. Although the Bothy solar panels provided more than enough electricity for my needs during my stay including hot water for the outdoor shower!

Connections / Reflections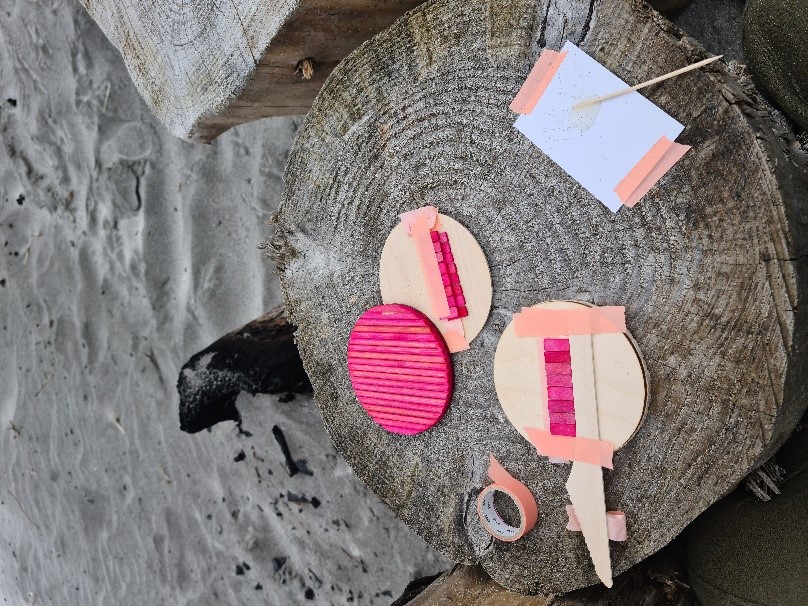 Although I enjoyed some of the peace and quiet provided by the residency it was also a real pleasure to meet with the local school children at the Eigg Village Hall to show them a few basic jewellery skills. Eigg Primary is one of the four Small Isles schools, along with Muck, Rum and Canna and I was lucky to be visiting on one of the rare occasions that all the schools were getting together on Eigg. The hall literally vibrated with the excitement of the children getting reacquainted with their friends from other islands. My assigned group of slightly older primary school kids made my day by announcing that that they would all be 'jewellers when they grow-up' and I was the recipient of some truly lovely hand crafted thank you cards later in the week – the island certainly has some up-and-coming creative talent! Later that evening I was able to give a small talk to some of the islanders about my studio practice and offer a small jewellery repair clinic. While on the island I, of course, also took time to climb to the top of the incredible and unique Sgurr of Eigg for truly fantastic views. And nobody needs to know how long it took me or how lost I got. I cycled to the magical Singing Sands to paddle in the sea and got sunburnt making jewellery on the beach in Laig Bay. Each evening I would return to Sweeney's Bothy to cook a simple meal, read a book and sleep well. Perfection. I left Eigg with a lighter step, (and rucksack) but a huge collection of notes, sketches, photographs, and memories.
Simply being selected for the residency (from an impressively accomplished shortlist) was thrilling and the residency itself more than lived up to my expectations. Undeniably the experience will impact on my studio practice and the visual language of my work however I understand that this may appear gradually - as part of a much longer journey. I am very grateful to both Visual Arts Scotland and the Bothy Project for making this possible. My longer-term plan is that I could conceivably create pieces that have a positive environmental impact - for example growing the materials needed to make the piece and fabricating the work without the need for any power. I'm feeling excited and positive about what comes next!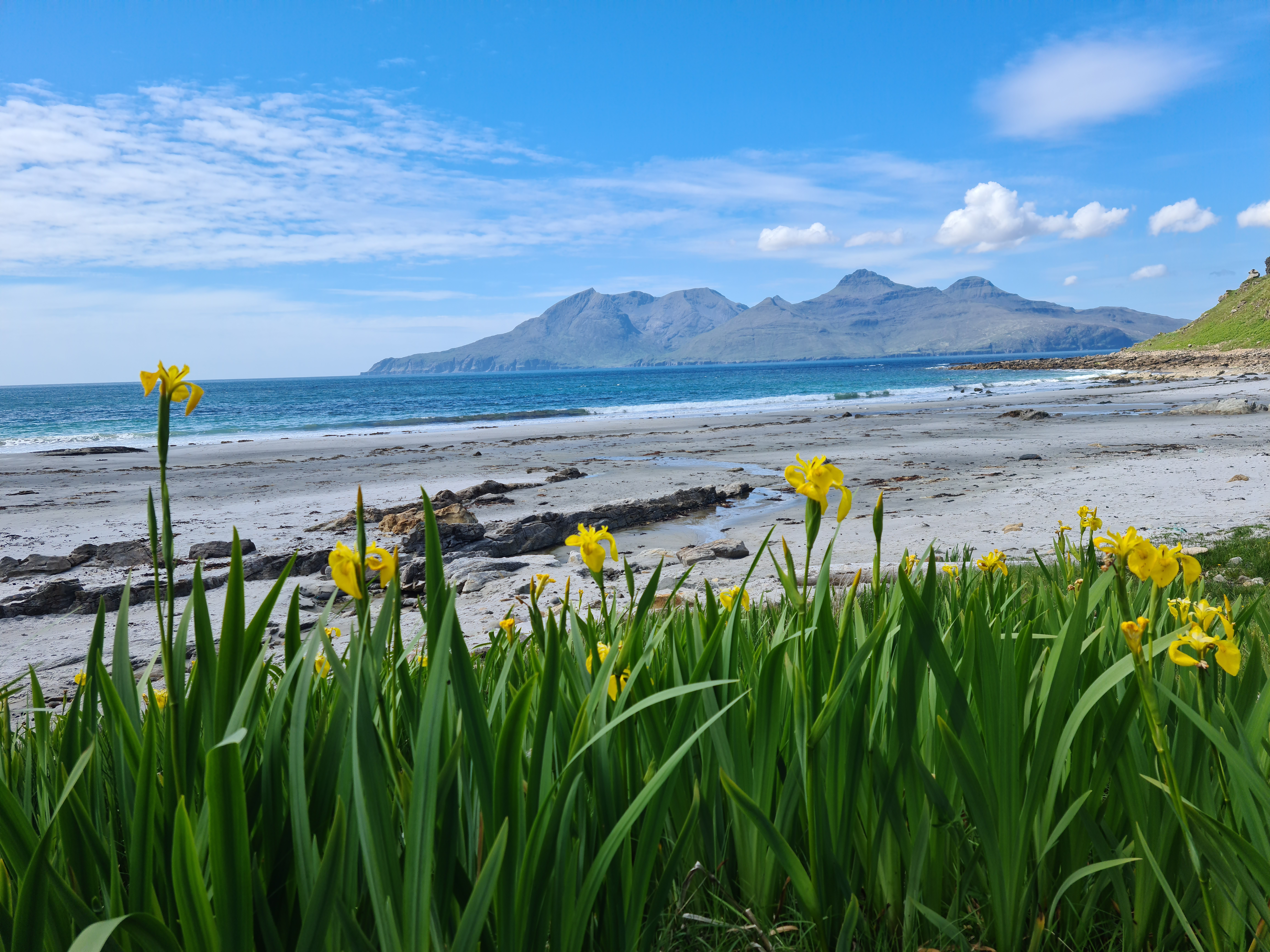 ---
You can see Jo's work here: https://www.craftscotland.org/craft-directory/makers/jo-pudelko/work