A blog by artists Geraldine van Heemstra and Clare Dudeney, who participated in our Without Boundaries residency, in partnership with Marchmont House. During this residency, the artists spent a week aboard the 50ft yacht, Whimbrel, a Bluewater catamaran, exploring the remote and beautiful coasts and waters around Arran and the Firth of Clyde.
---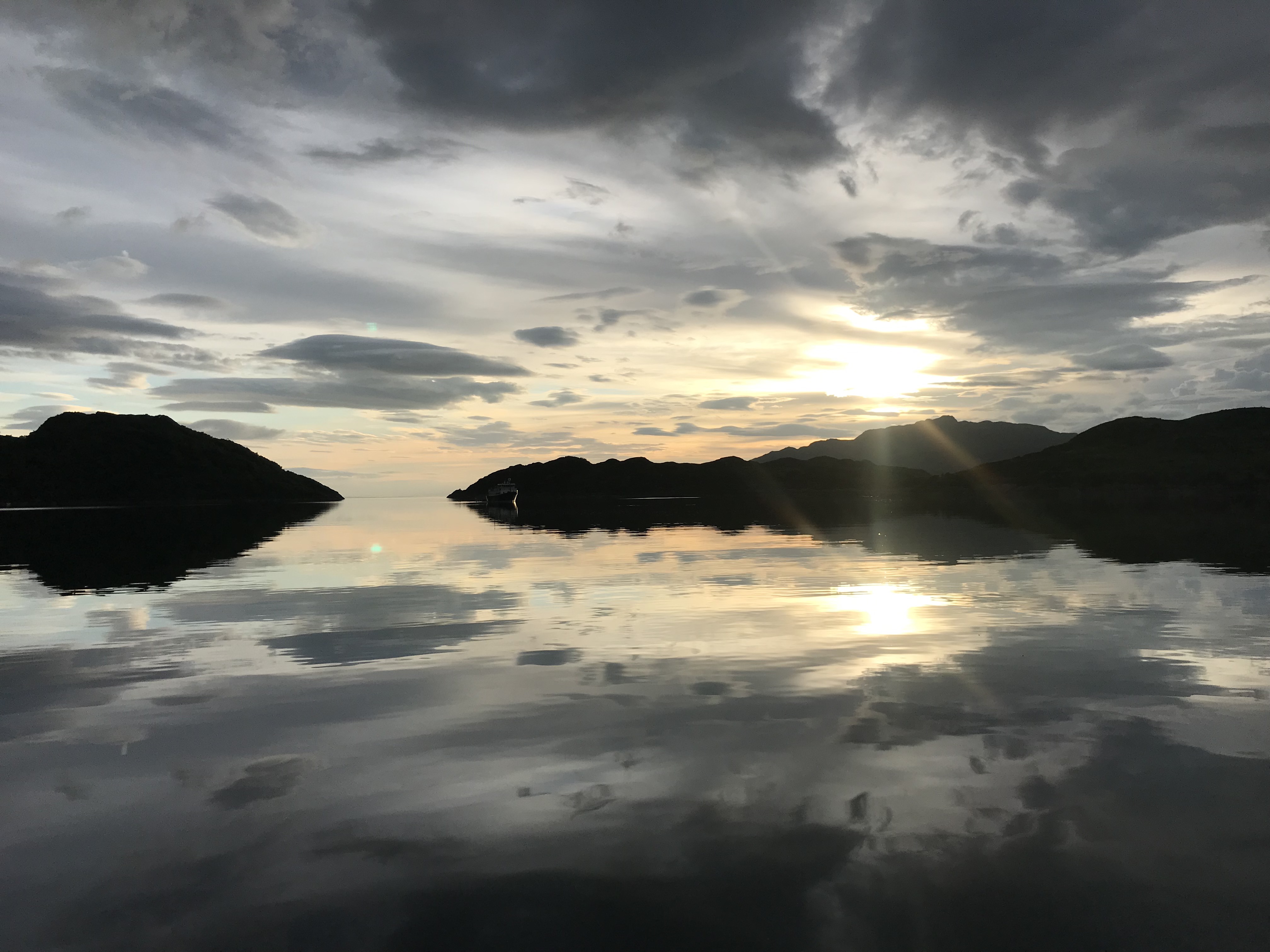 As we travelled to Oban by train, the beauty of the landscape was overwhelming. Geraldine's etching devise captured the rhythms, twists and turns as the train passed lochs and forests. Clare recorded the colours of the light and heather through the train window in abstract drawings.

The road to Ardfern was equally stunning. Ben Merritt, skipper of the Yacht Wimbrel, and his shipmate Rory Stokes met us at the harbour. We were greeted warmly with a cup of tea and a Covid-19 test. Fortunately this was clear, so we sailed to Goat Island and couldn't wait to get started the next morning. Geraldine braved a sea swim. Then we looked at the map to plan a route around the Inner Hebrides.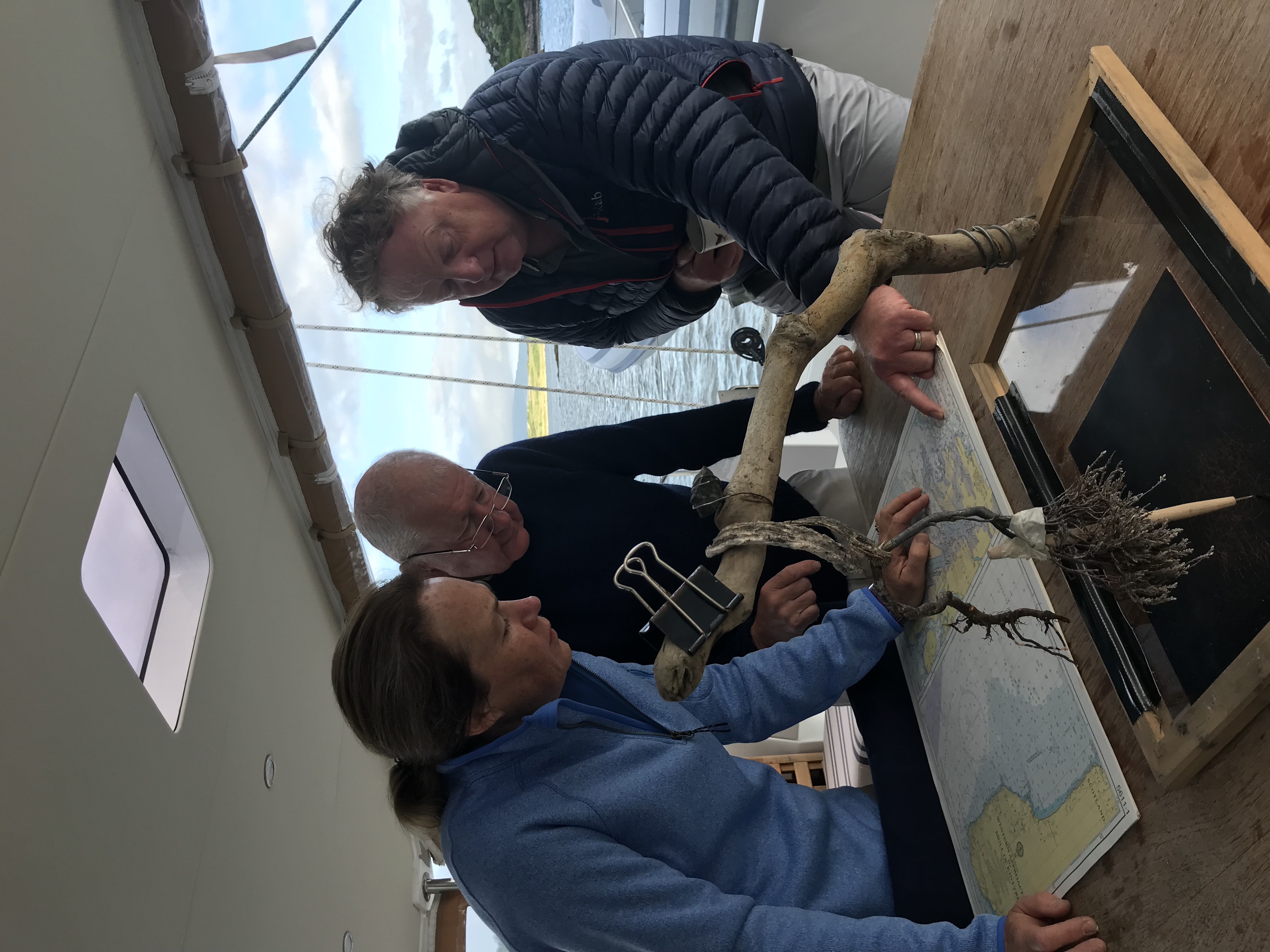 Each morning Geraldine prepared a new wind etching device with objects, found and leant from the yacht and surrounding islands, such as fishing tackle, rope, a whisky bottle, compass and rusty remains from the beach. Her devices were placed on the starboard bow, to trace the movement of the voyage. Clare began to string her loom. Gathering many fine yarns to gradually interweave impressions of the surrounding colours, textures and feelings of being in the landscape.

We met a local whisky distiller in Glenmore bay. Then stayed overnight in Loch na droma buidhe, with a mesmerising silver stream of reflections at sun down that seemed infinite. A visit to Tobermory was a highlight to stock up from a local chocolate shop. We later moored at Canna Bay and the crew feasted on a fresh seafood platter, whilst vegetarian Clare enjoyed a seaweed salad, which so impressed even the most cynical carnivores, that we embarked on a seaweed forage the next morning with Gareth, Cafe Canna's incredibly knowledgeable manager and talented chef.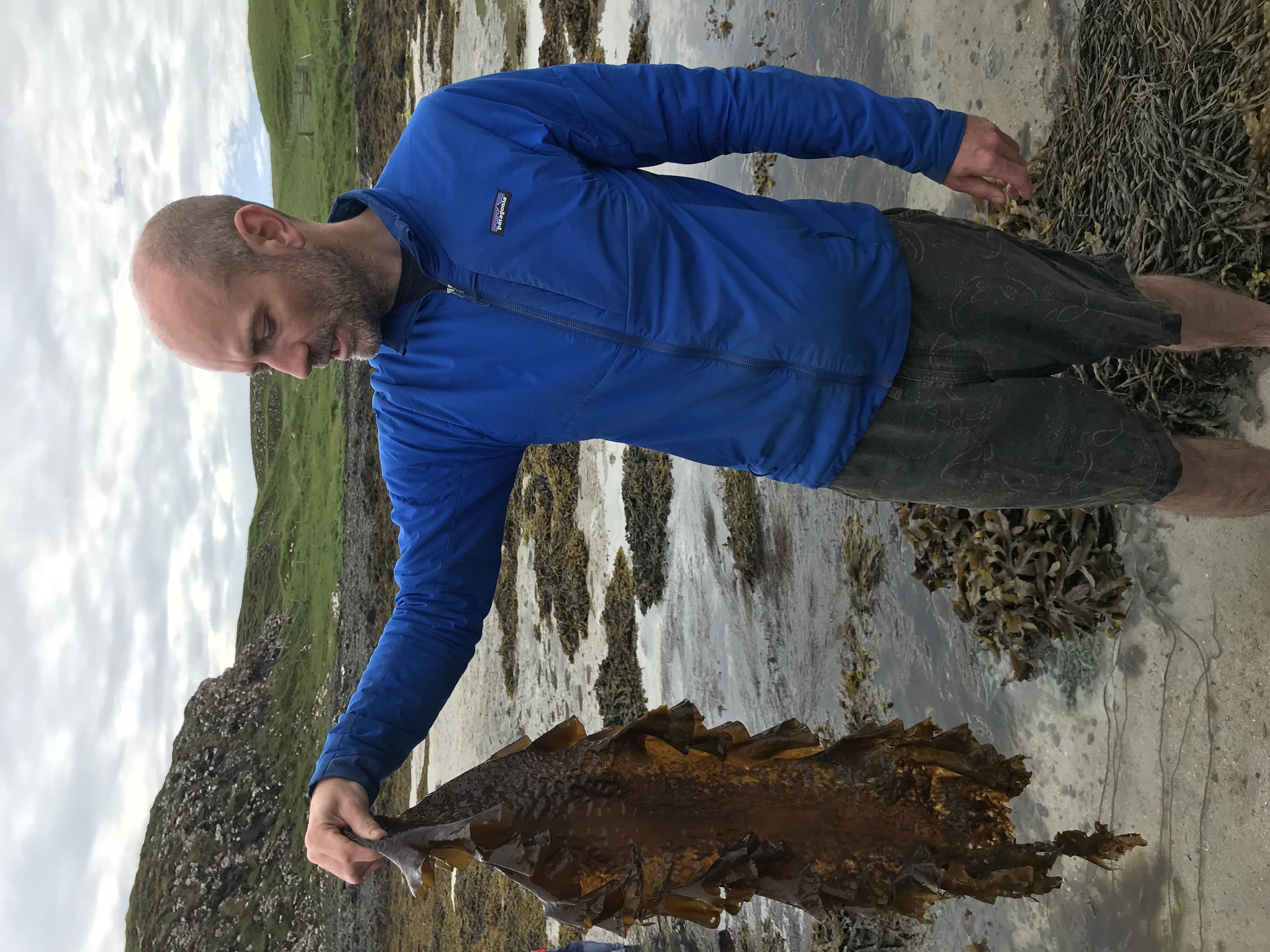 Diving for gut weed, sea spaghetti, sea lettuce and sugar kelp was a highlight for Clare. Who attempted to serve some delicious seaweed soup. The skipper and mate sneakily threw their seaweed overboard. Clare regretted her over indulgence later, on the brink of sickness, bobbing in the dinghy. The appearance of the spinnaker raised everyone's spirits as this luscious sail ballooned forward – helping us gather momentum, flying through the sea, to anchor at Rum.

Geraldine was never to be seen without sketchbook in hand, preferring quick watercolour paintings to photography. She responded instinctively to the continuously changing weather patterns, coastal rock formations and Island contours. Clare layered abstract marks each day on a coloured ground to express the patterns of nature and energy of the wind and water.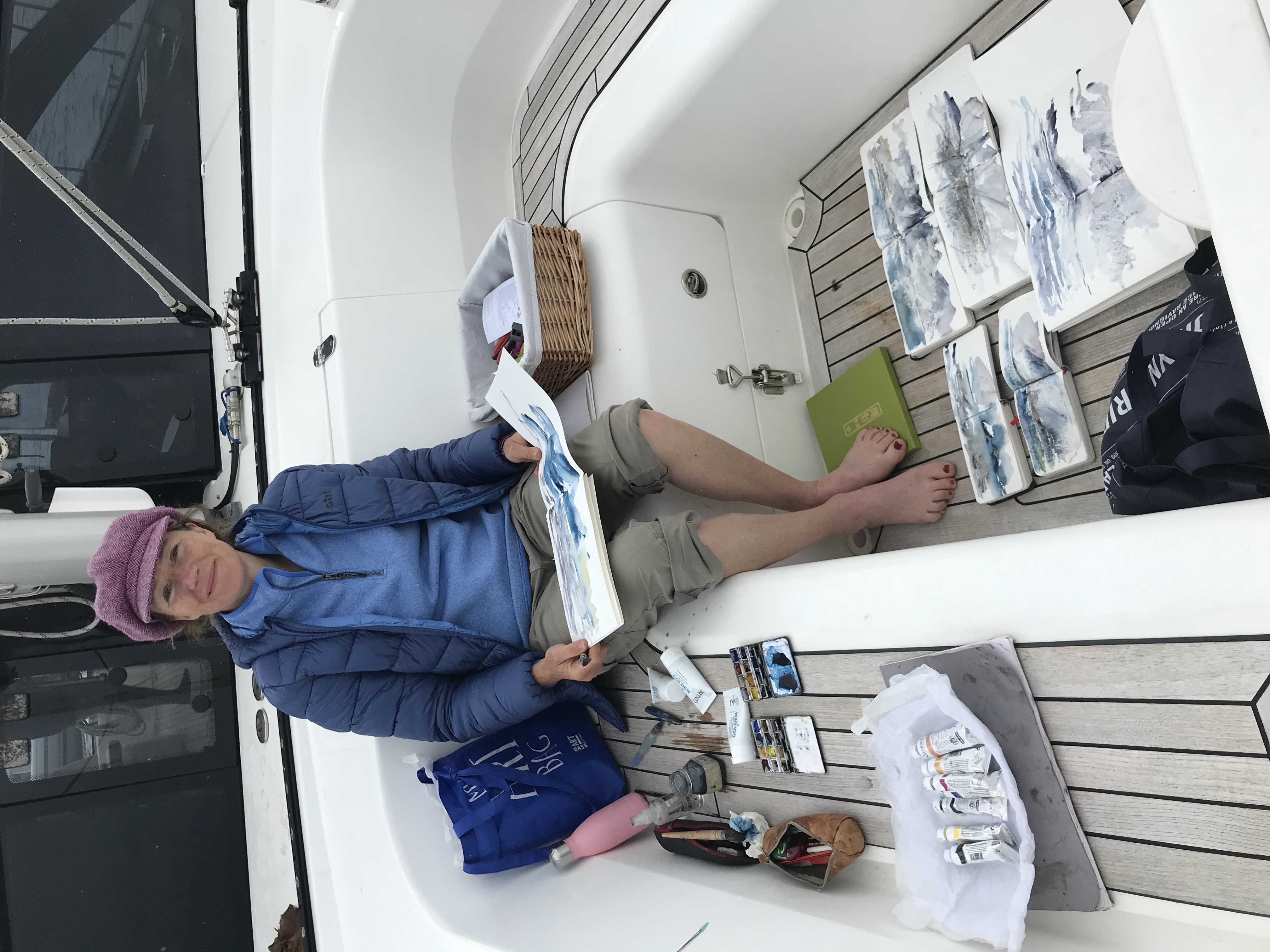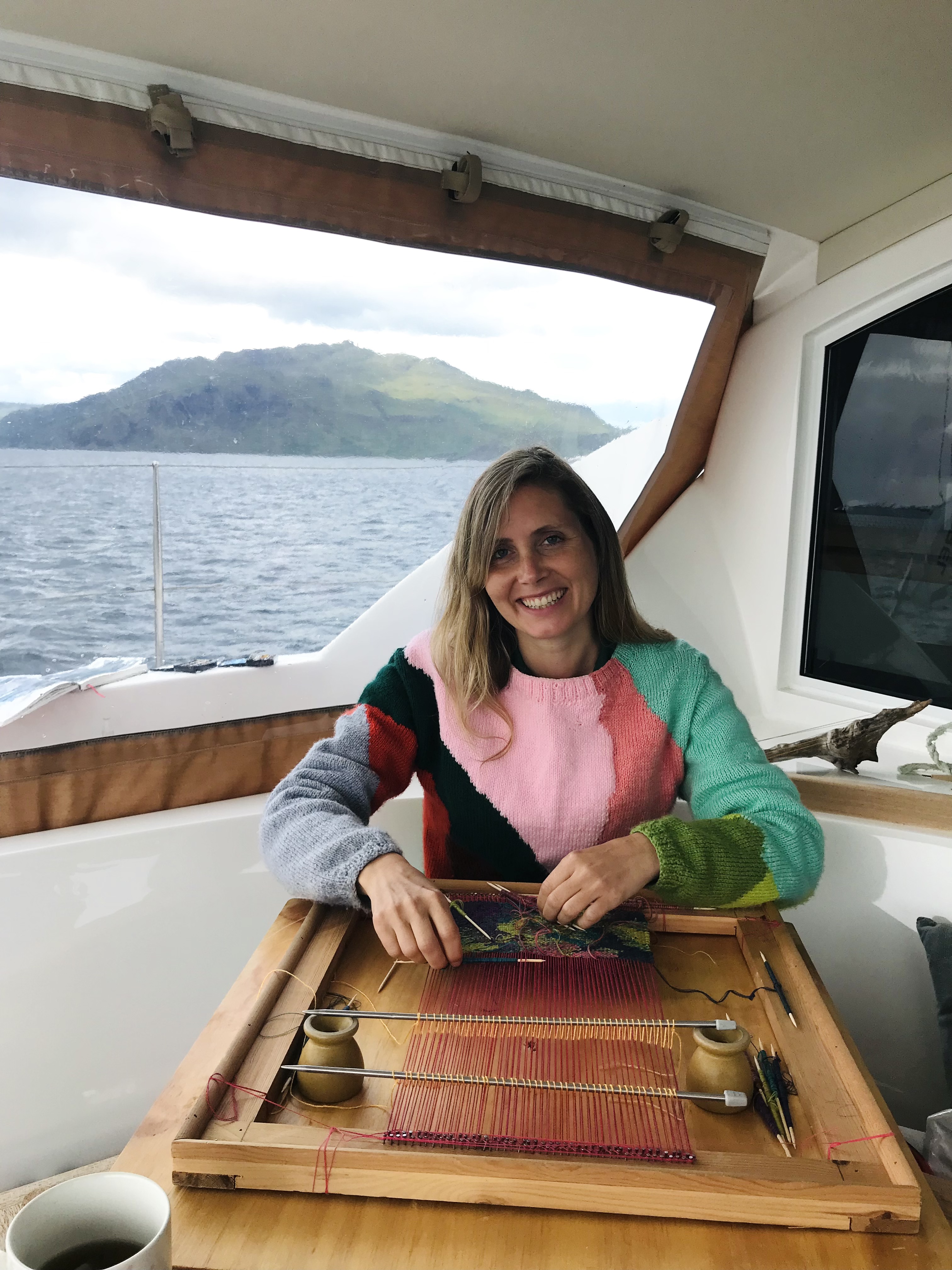 We experienced wildlife galore. As we saw seals basking in Loch Scavaig. With a dramatic view on the Cuillen Hills, which Geraldine and Clare both absorbed from the bow, with a woven painting growing on port and wind etching to starboard. On Lunga we hoped to see puffins, but were unprepared to be completely surrounded and embraced by a circus of these curious, sociable birds, pecking at our legs. Suddenly disappearing as a bird of prey perused the cliffs then gradually popping out of holes or landing on outreached webbed feet with wings flapping.

Geraldine strung her Aeolian harp to experience the resonating sound and fine vibrations of the wind. Clare and Ben carefully held their breath to listen to the instrument's otherworldly melody. On a small dinghy, Rory then navigated the artists into the roaring chamber of Fingals Cave. A cathedral like space, made from the same lava flow as Giants causeway, which inspired Mendelssohn's Hebrides Overture. We were sucked in by the swell and dazzled by the gold and emerald glitter of the rocks.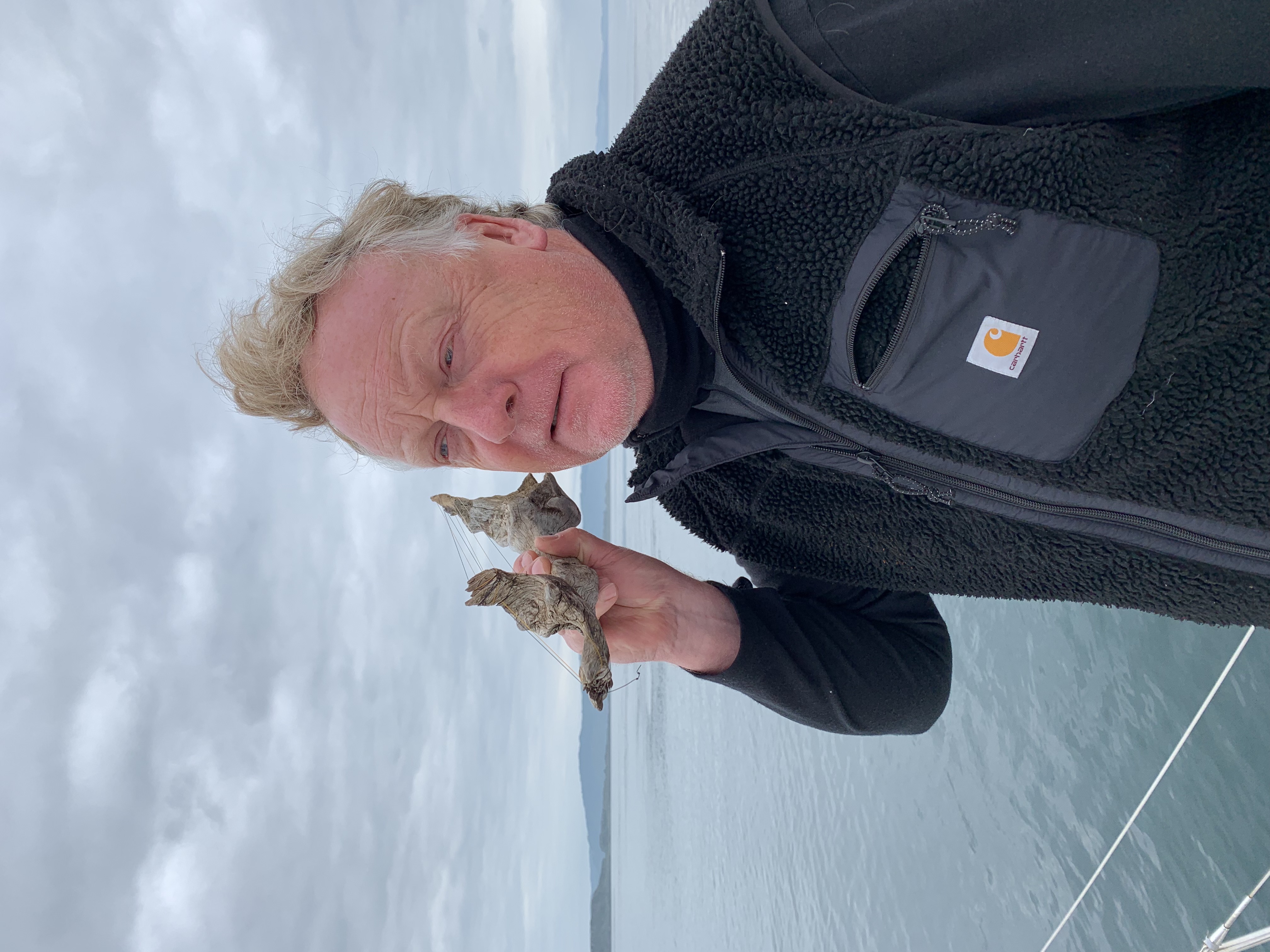 We slept at Cragaig bay, Ulva. Geraldine swam under the boat, which formed a turquoise cave at first light. We watched a sailor scrape years of sea life from the keel of his boat, over a cupper and cakes at Cafe Ulva. Geraldine captured the restoration and donated her painting to the sailor. We travelled through the Sound of Iona to the bay of the tidal island of Erraid near Tinkers Hole, drawn by the white sands. The crew celebrated a wonderful voyage sitting on a rock, which we dubbed 'Whimbrel Rock' with a glass of wine.

On the final day at sea, we woke early to sail with the tide, before it turned against us. The artists made the most of the final moments aboard to finish paintings, etching and weavings. Geraldine captured a dramatic sunrise between Scarba and Jura. Clare wove with the blues of rippling water and distant mountains. We were all delighted when a pod of dolphins joined us on the return to Ardfern. Joyously swimming between the catamaran hulls and flirtatiously turning on their sides to make eye contact.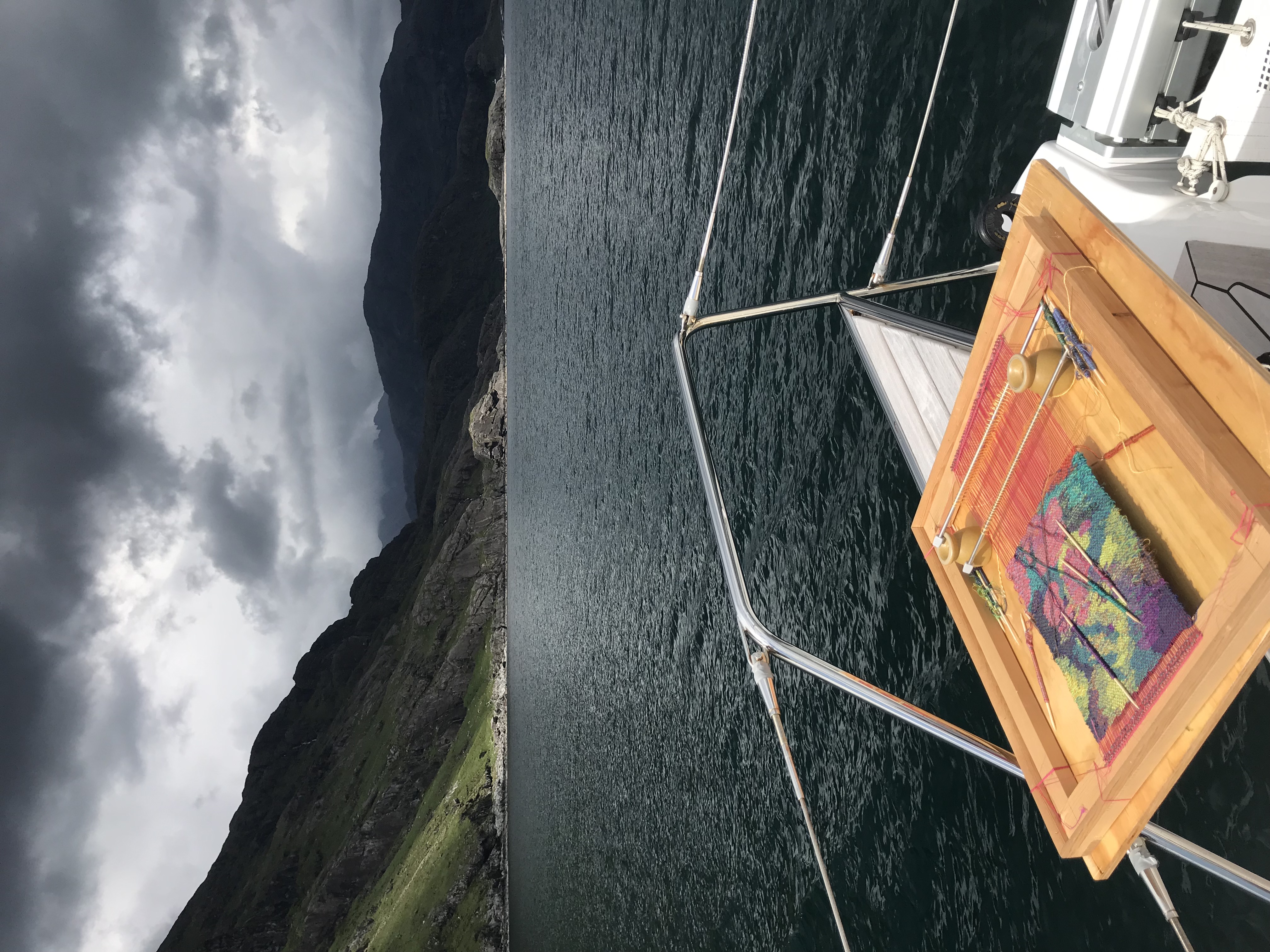 Our week's residency on Yacht Whimbrel with Visual Arts Scotland and Marchmont House was a hugely inspiring and rewarding opportunity. It was a unique experience to sit on deck weaving, etching and sketching to our hearts content. We feel utterly re-charged and buzzing with ideas to develop the threads we started on board. We are now developing a collaborative map of the voyage in print and yarn.
---
To learn more about Clare and Geraldine's work, head to their respective websites:
www.claredudeney.com
www.geraldinevanheemstra.com