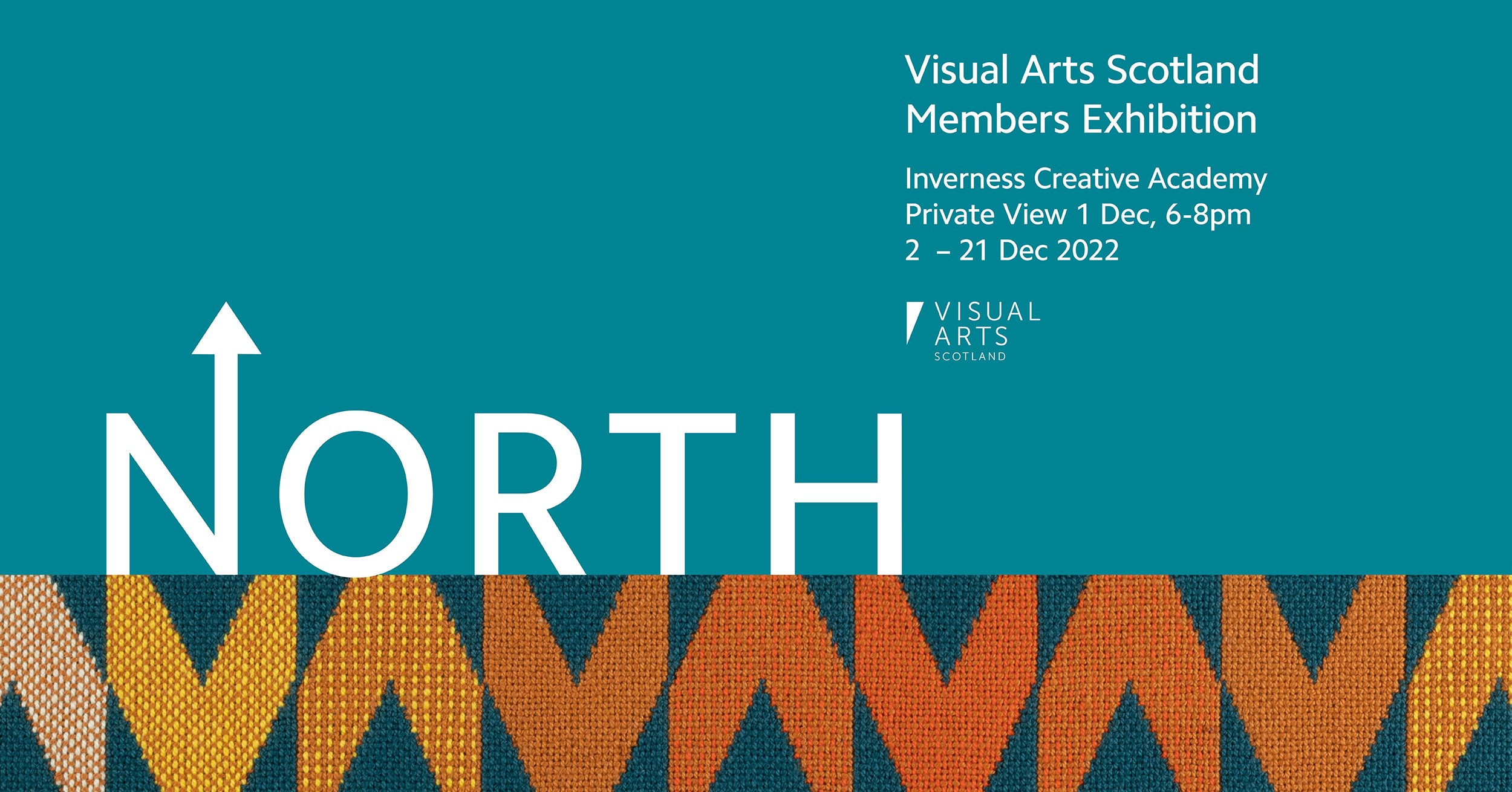 Get your tickets for the preview evening here.


NORTH is the first exhibition of our Compass exhibition programme; a series of exhibitions connecting the North, South, East and West of Scotland, and arguably our most ambitious project to date. This is an exciting opportunity to engage with new spaces and connect with our Members on a wider scale than we have done before.

The exhibition brings together Professional, Ordinary and Associate Members of Visual Arts Scotland working across a fantastic breadth of media. After a highly successful digital showcase with REVERB, we are delighted to return to exhibiting in person and invite you to join us for a celebration of art, craft and creative community.

NORTH runs from 2-21 December 2022, Mon-Fri, 9-5pm. Free Entry.
Private View 1 December, 6-8pm.


Venue: Inverness Creative Academy, Midmills Building, Stephen's Street, Inverness IV2 3JP

Inverness Creative Academy is fully accessible, across both phases of the building.

Artists
Adrian Gardner
Aileen Keith
Aimee Coulshed
Alison Grant
Ally Wallace
Andrew Mackenzie
Andrew Phillips
Angus Rushin
Ann Comber
Becs Boyd
Bronwen Sleigh
Cally Booker
Carol Sinclair
Cat Outram
Catherine Mynott
Charlotte Roseberry
Chris Brook
Christine Sloman
Christopher Thomas Donnelly
Daisy Iles
Ellis O'Connor
Emma Hislop
Fiona Bailey
Frances Ryan
Gemma Petrie
Gillian Ryan
Hayley Jane Dawson
Helen Michie
Helen Moore
Ian Giles
Iona Hall
Jacob Littlejohn
Jane Hunter
Jenny Pope
Jo Gifford
Joan Smith
John Ayscough
Judith Davies
Julie Barnes
Kara Thorndike
Kathryn Hanna
Katie Hallam
Keith Paton
Kenneth David Le Riche
Kenris MacLeod
Leo du Feu
Linda Green
Lindsey Lavender
Lucilla Sim
Lyndsay Hamilton Fairley
Madeleine Daly
Madeline Mackay
Marion Barron
Mary May
Monica Findlay
Morag Smith
Nicola Wiltshire
Siusan Patterson
Susie Leiper
Tilly Howie
Toni Diane Harrower
Yasmeen Khan
Yellow Broom
---
Banner artwork: 'Chevron Study' by Cally Booker