Pigment grinding, Anchor Studios. Photograph by Alban Roinard.
From One To Another 2022 | Cornwall x Scotland Exchange Residency

From One To Another is a residency delivered in partnership with the Wilhelmina Barns-Graham Trust, Borlase Smart John Wells Trust (Cornwall) and Marchmont House (Scotland).

A reflection by Siobhan McLaughlin, artist-in-residence at Anchor Studios, Cornwall. Siobhan was the Scotland-based artist for the project, whilst Cornwall-based artist Clare Wardman was resident at Marchmont House, in the Scottish Borders.
---
Thinking back to November 2022, how did you find the VAS Cornwall Exchange Residency?
What a month! Newlyn is a long way from Glasgow, and I felt grateful every day to be living and working in Anchor Studios. The garden, views out to the sea and immense space of the studio felt so uplifting to my practice. The studio itself made me want to create. It was also a fantastic base to explore from, and having four weeks to walk, draw and read was exactly what I needed to open myself up to new ideas. This sustained research and exploration period has been crucial in developing the next stage of my work.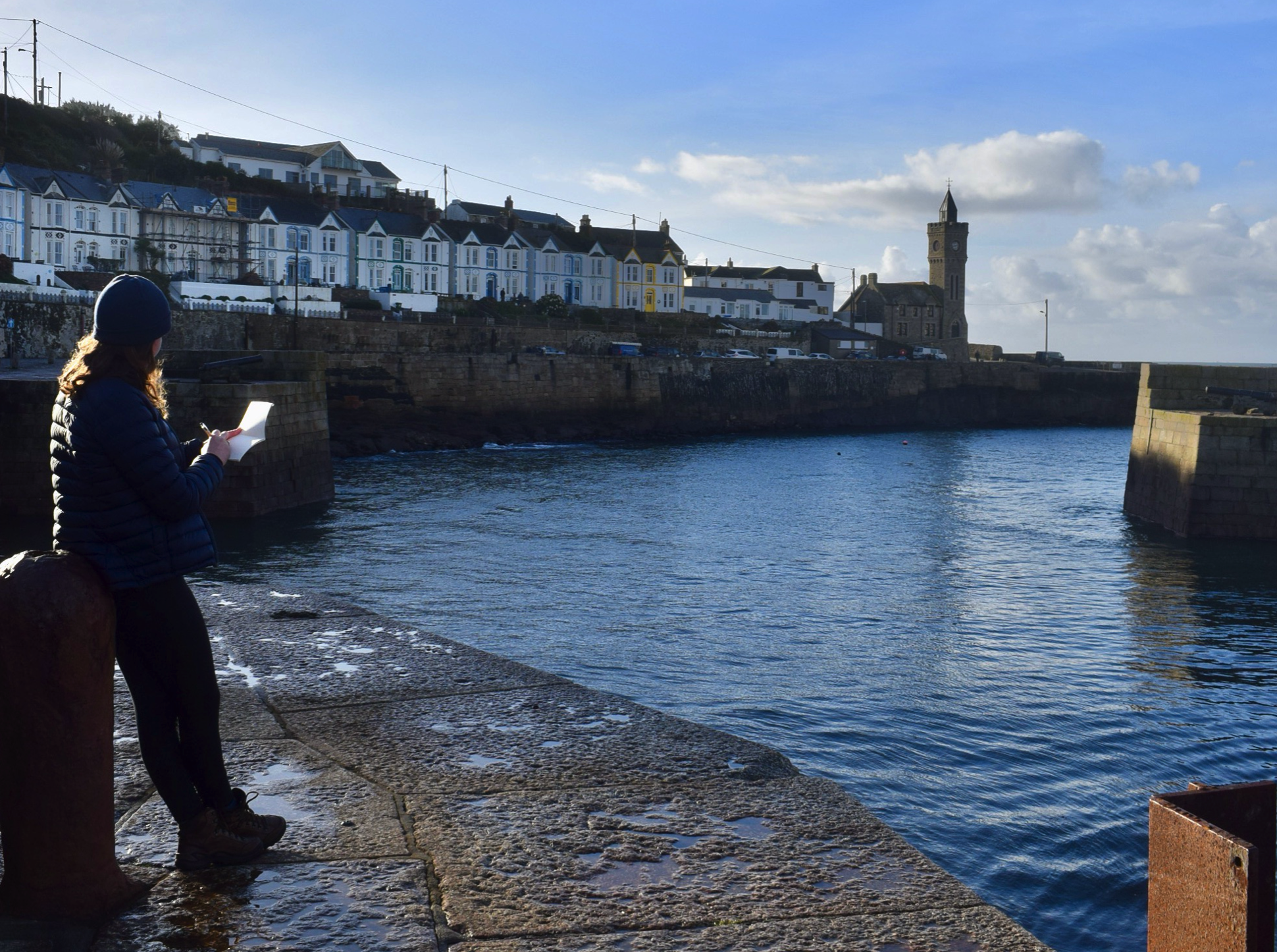 Sketching around Porthleven in same spot where Wilhelmina Barns-Graham drew and painted in the 1950s.
How did you approach the artistic scene of South West Cornwall?
There's a great artist-run scene which I wasn't fully aware of and engaging with these spaces from day one invigorated my thinking. Sovay Berriman's MESKLA symposium in Redruth and artist-run space Hweg in Penzance were particularly special. It was also fantastic to visit more established studios and galleries and chat to artists like Anthony Frost, Libita Simbungu and Blair Todd of the Newlyn/Penzance Exchange Gallery.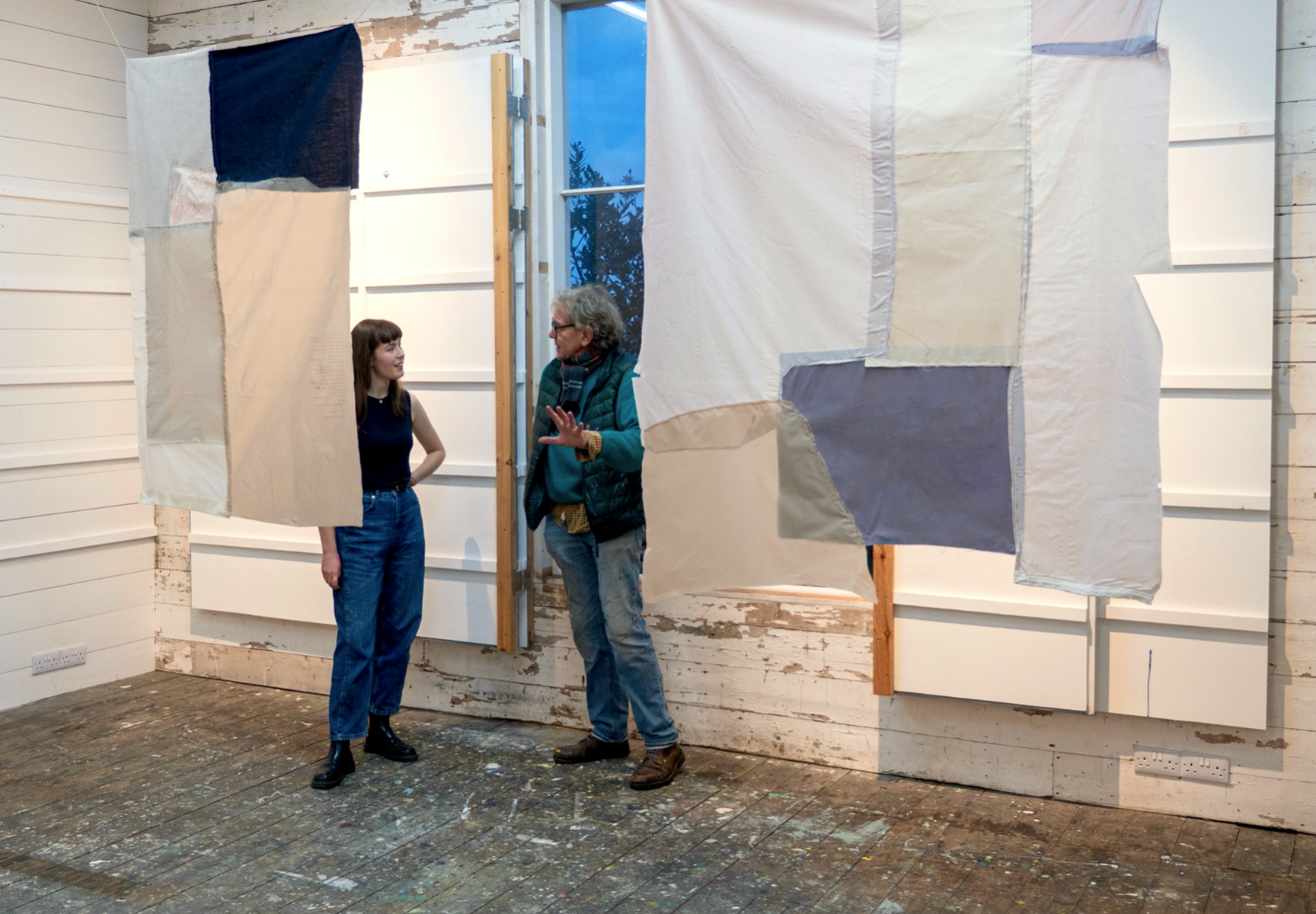 Photograph of installation, We Sit Together Yet Apart, speaking with Anthony Frost in Anchor Studios. Photograph by Alban Roinard.
All of the artists I met were so generous and open. Engaging with their different working methods and walking with them in their specific landscapes was really beneficial. In particular, meeting and walking with artist Pete Ward, who creates pigments from the earth, impacted on my work. For years I've been mixing colour palettes that evoke the colour of the land in my paintings, but in Cornwall I began to create paint from the land, gathering earth and stones to make pigment. I invited this artist for studio visits and developed the material focus in my practice to combine my new knowledge with previous interests in utilising remnant, discarded materials.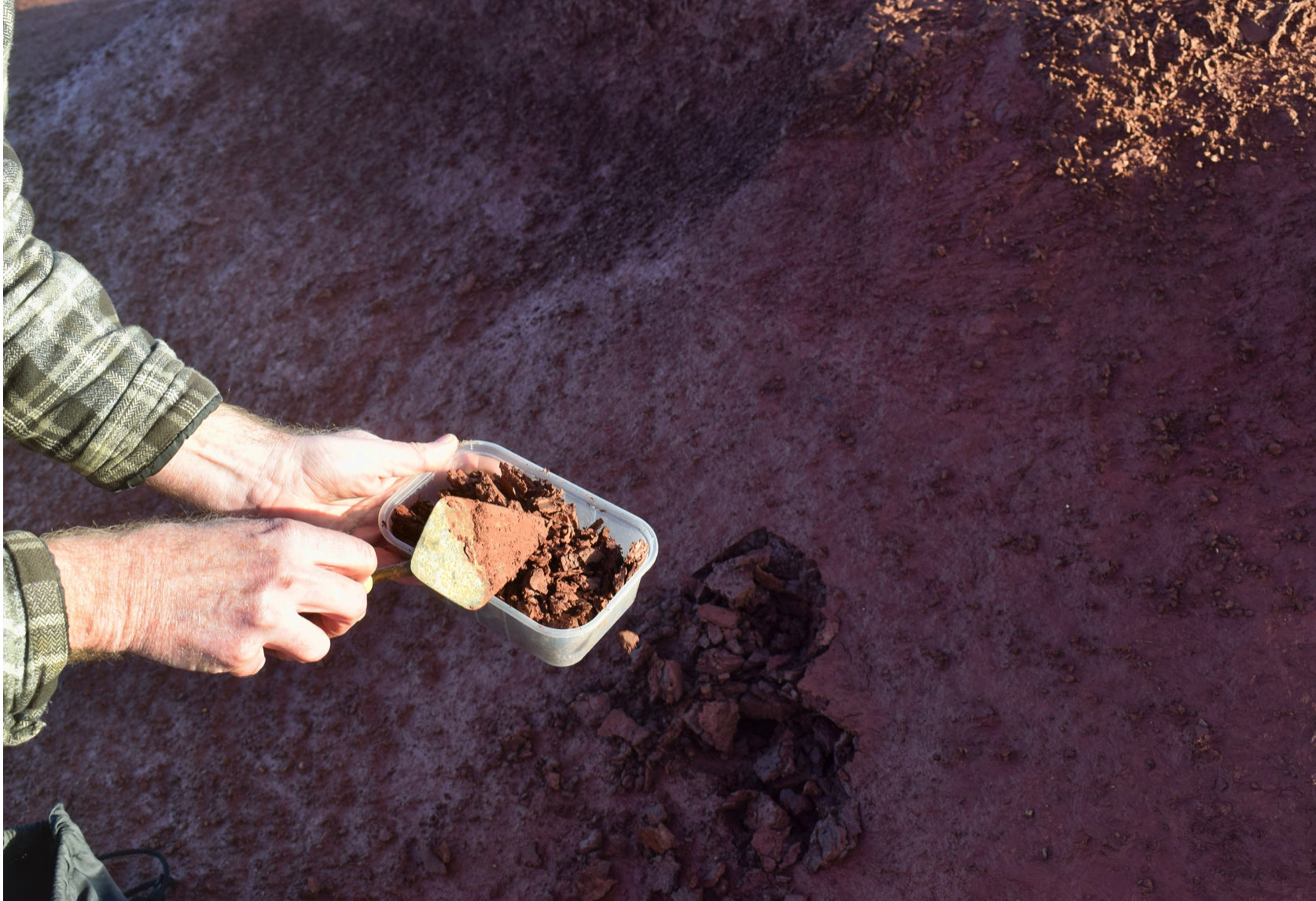 Gathering earth for 'Geevor Red' pigment with artist Pete Ward.
Other artists I met gave me remnant materials – fisherman's smock, old Tate St Ives curtains, windsurf sail ripstop – which I worked into new paintings. This idea of working sustainably with a focus on shared community is something I really valued over the month.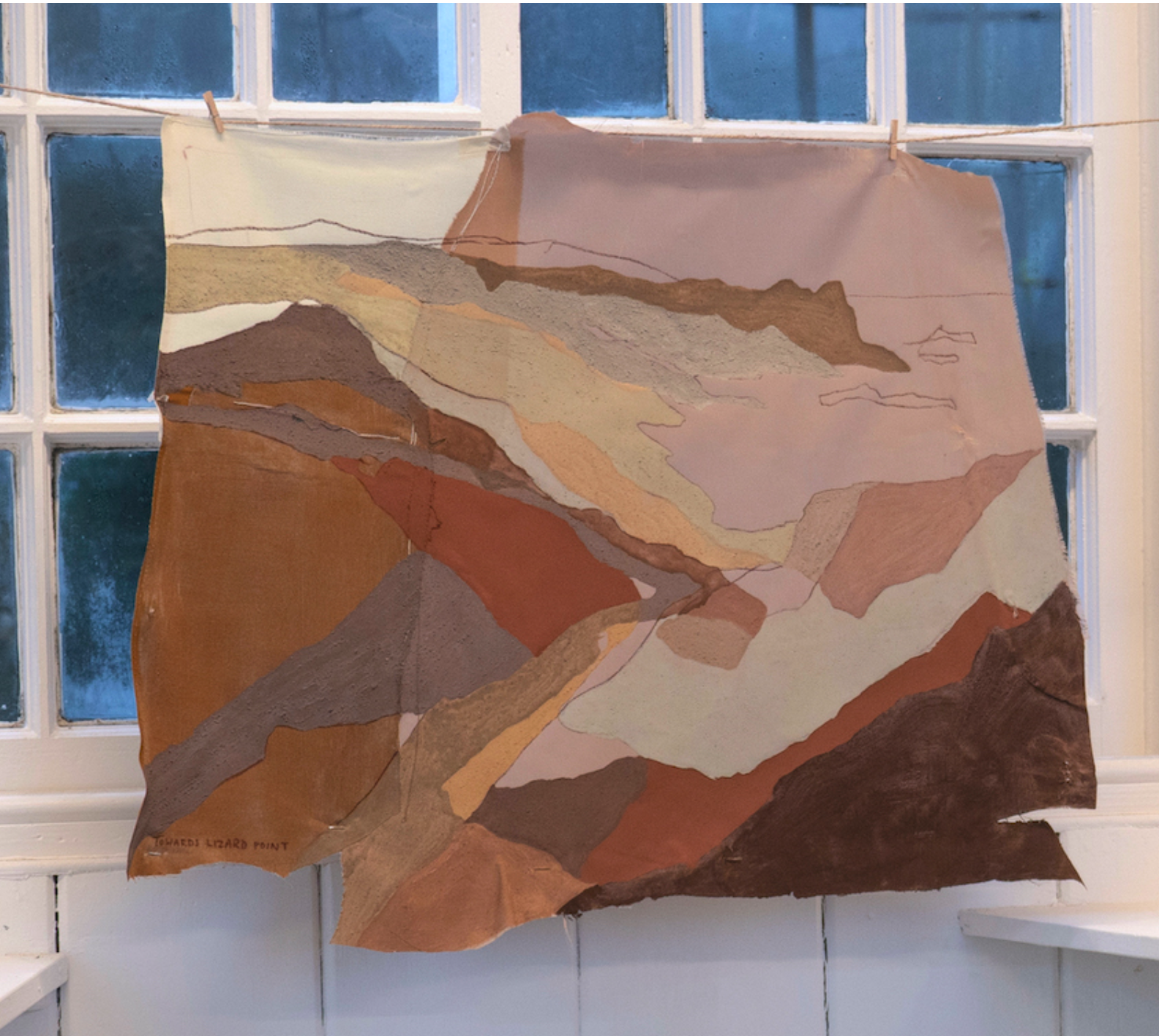 Towards Lizard Point. Earth pigments and chalk pencil on mixed materials, 38x45cm.
Did anything unexpected come from your time at Anchor Studios?
Writing isn't a regular part of my practice, I've only written a short wee something once before so this came as a surprise to me.
During the month I read/re-read Nan Shepherd, Robin Wall Kimmerer and Ithell Colquhoun. The unique ways that these female writers approach nature saturated my thinking during the residency. I walked and re-walked parts of the South West Coastal path and saw something new every time. A quiet walk from Newlyn to Mousehole sprouted this:
We Sit Together Yet Apart

Step, Walk, Stretch

Look. Boats sitting in funny shapes

Filling the dock that is never dry

Step in, Wave. Walk

Far out in the crashing waves,

A Dark Form, bobbing

Disappearing.

I sit on a boulder. Wind thrashing

At my face.

Slowly. Ho mo leannan

Ho no leannan bhoidheach,

My beautiful sweetheart.

Haunting when slow

It draws the form in,

Head bobbing and eyes glinting.

We sit together, yet apart

Looking

A long moment

But then it's gone. I look up –

Water

A wash of white foam above

I look down –

Water over me

I am part of the Sea.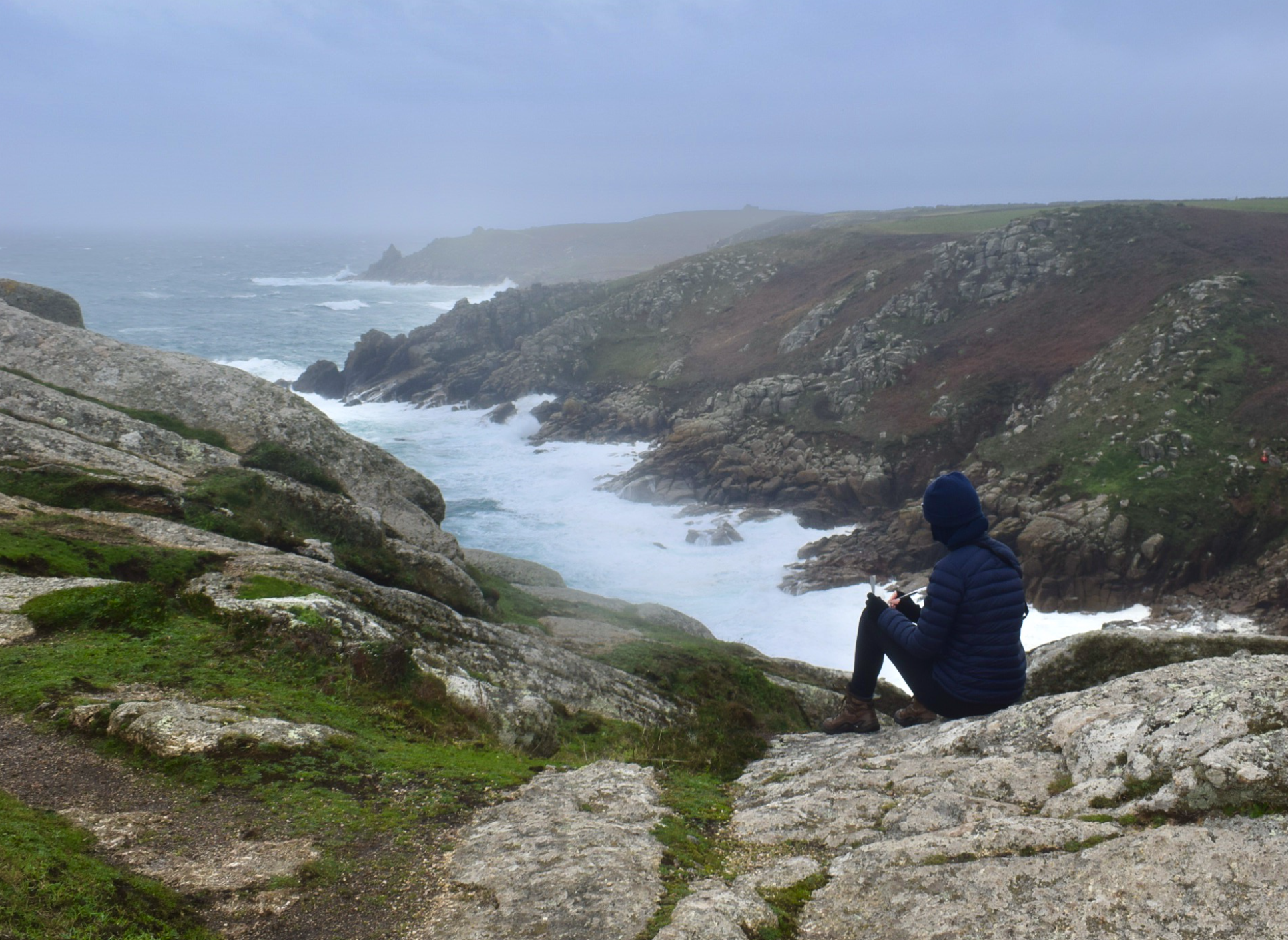 Sketching while walking along South West Coastal Path.
---
Words and images by the artist, unless otherwise stated.

Follow Siobhan's work and practice.

If you want to hear about upcoming residencies and other opportunities, sign up for our newsletter.