BOTHY PROJECT RESIDENCY-
THE SHORTLISTED ARTISTS
Visual Arts Scotland and Bothy Project are proud to be partnering to deliver this fantastic residency opportunity for an artist to stay for a week, fully funded at Sweeney's Bothy on Eigg. Our call out to VAS members to apply was met with a great number of brilliant applications and as we only had one residency place, we wanted to showcase the shortlisted ten artists who all submitted a high standard of applications. We were really excited by the breadth of experimentation and high quality output in this shortlist. It is unusual for us to showcase a shortlist but in these circumstances, we wanted to shine a light to celebrate these artists work alongside the selected artist, who we shall announce very soon.


ANDREW BROOKS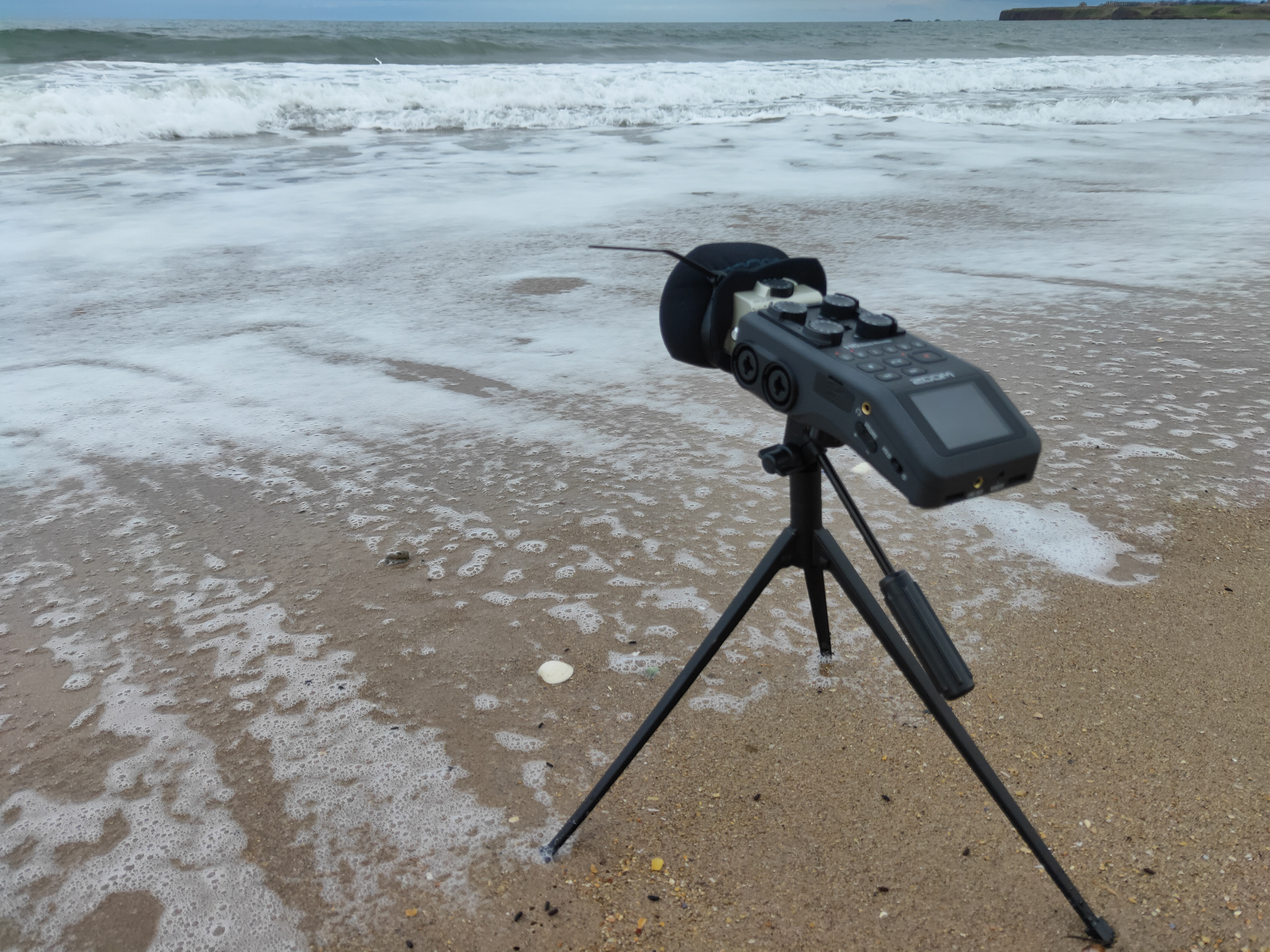 Image: Field Recording Wave Wash
Photo credit: Andrew Brooks
I am an artist, architect, musician, composer, and educator. I collect information about the world's elements to tell stories, disassembling them attempting to find the universal.

I am currently working on a collection of audio and video pieces which use textures recorded in East Lothian where I live along with musical compositions. I plan to release the collection as an album but I also hope to develop a series of immersive projection and sound installation / performance pieces. Linked but distinct from this audio and video work are semi-figurative semi-abstract paper and ink work which have been an ongoing thread to my practice. Recently this thread has related to my connection to the Scottish landscape.

I am also carrying on a series of projects which address the pandemic and lockdown. Since its impact began I have made a series of small projects which document or react to our situation over the last year. Some of these have coalesced into finished pieces and some remain as documentation which given time and perspective may turn into part of a greater whole. These include me reading books and stories to friends and strangers over video call, recording the video and audio of city centre park dawn chorus and walking around Bristol city centre during the first rush hour of the first lockdown with multiple microphones on a surround-sound recording rig. I am currently preparing a new video performance and physical ink piece which directly relates to the realities of the pandemic.
web. ajb-art.com
twitter. @bajbart
instagram. @bajbart @abrooksinkpaint
KIRSTEN CRONIE

Image: Koorie, 2020
Credit: Kirsten Cronie
Hello! My name is Kirsten Cronie, a creative inspired by all things outdoors, and a graduate of Knitted Textile Design from DJCAD in 2020. Since graduating, I have based myself in Dundee and evolved my knitting and my merino yarn dyeing techniques, developing my final year work into a considered and contemporary knitwear brand named Koorie. Myself, my work, and the brand, are heavily inspired by the Scottish Highlands and the breathtaking landscapes, experiences, and people to be found across them. I also run a blog on my website -

https://kcronie.com

- which touches on the Scottish landscapes, traditions, histories, and cultures I've engaged with while out on adventures around the Highlands & Islands.

Koorie, as a brand, is still in its infancy. I am currently working on the identity of the brand, figuring out how I want the outside world to perceive Koorie and it's values. I am hoping all aspects of my creative practices can become interlinked with environmental conservation work in Scotland, such as tree planting and re-wilding projects to encourage the return of the Caledonian Forest, and helping to repair and rebuild Bothies with the Mountain Bothies Association. Currently, the physical production of textile work has been difficult for me due to the restrictions of the pandemic, but I am looking forward to getting back into a studio and developing my work into a range of interior and wearable knitted textiles when the time allows.
ANDREW PHILLIPS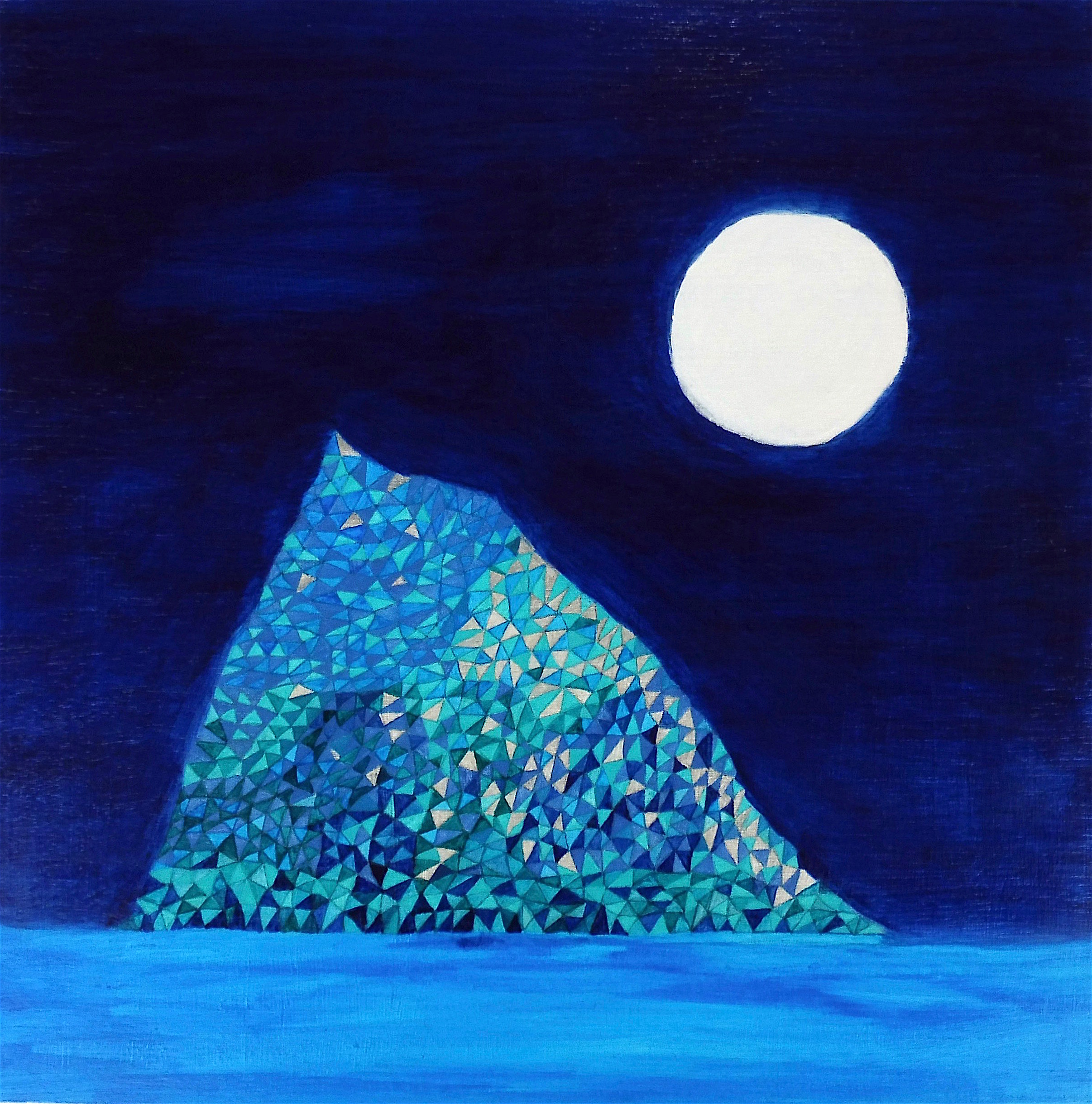 Image: Winter Light
Acrylic on wood panel, 10(w) x 10(h) x 0.5(d) cm
Credit: Andrew Phillips
Hailing from the South Downs of Sussex, I am a visual artist currently living in Newport (south east Wales), where I studied Fine Art as an undergraduate. From 2015 to 2020 I lived in Edinburgh, during which time I exhibited in various group, solo, and joint exhibitions, and was elected a Professional Member of the Society of Scottish Artists. I trained as an Art Psychotherapist at Goldsmiths College, London, and now work in independent practice with children and adults.
What might the Earth, and its particular forms and places, be expressions of? This question is at the heart of my work, and the use of 'landscape' imagery is intended to evoke an experience of connection between the physical, and our sense of inner life, through which we are connected to the wider web of the 'more than human world.' I make work which explores the tradition of regarding specific locations and landscapes as having their own unique kinds of sentience, with which we can come into relation. I consider this to be something of a missing strand within much contemporary discourse on the importance of 'connecting' with Nature, rewilding, and appreciating beauty. My work is about bringing back into our awareness recognition of landscapes as beings, or entities in their own right.
SARAH VALLANCE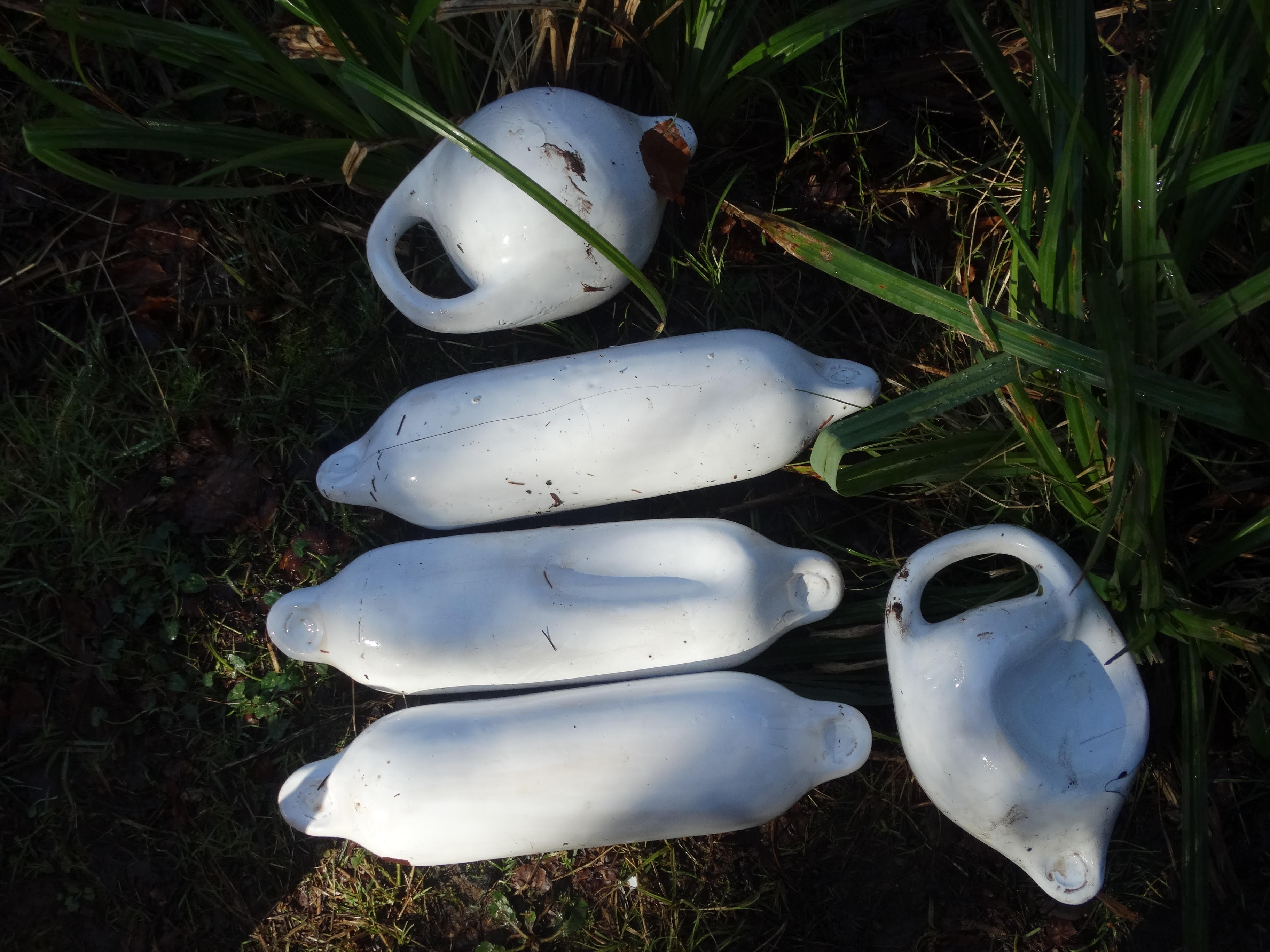 Image: Ebb and Flow , Lang Craigs, Dumbarton, March 2019
Earthenware ceramics
Credit: Sarah Vallance
I am a Scottish artist living and working in Glasgow. My ceramic practice follows personal encounters with natural landscapes, and addresses the subsequent archiving of found terrestrial form. I frequently make environmental work connected to Ardrossan - the seaside town I grew up in, hoping to address personal enquiries related to place and making, whilst also addressing wider curiosities of physical and imagined landscapes.

In 2020 I graduated from The Glasgow School of Art, Sculpture and Environmental art and have since been undertaking an internship with Glasgow Ceramics Studio. In an effort to further explore the material of ceramics I have been active in expanding my making skills by learning to throw on the wheel - considering the conversations between domestic spaces/objects, art objects and the natural environment. My current practice expands this discussion as I explore ways of creating functional and evocative wares and objects in ceramics, metal and wood. Accompanying this area of research is my interest in hillwalking in Scotland - considering that of walkers settlements as structures that could house and utilise some of the work that I am in the progress of making.
AYLA DMYTERKO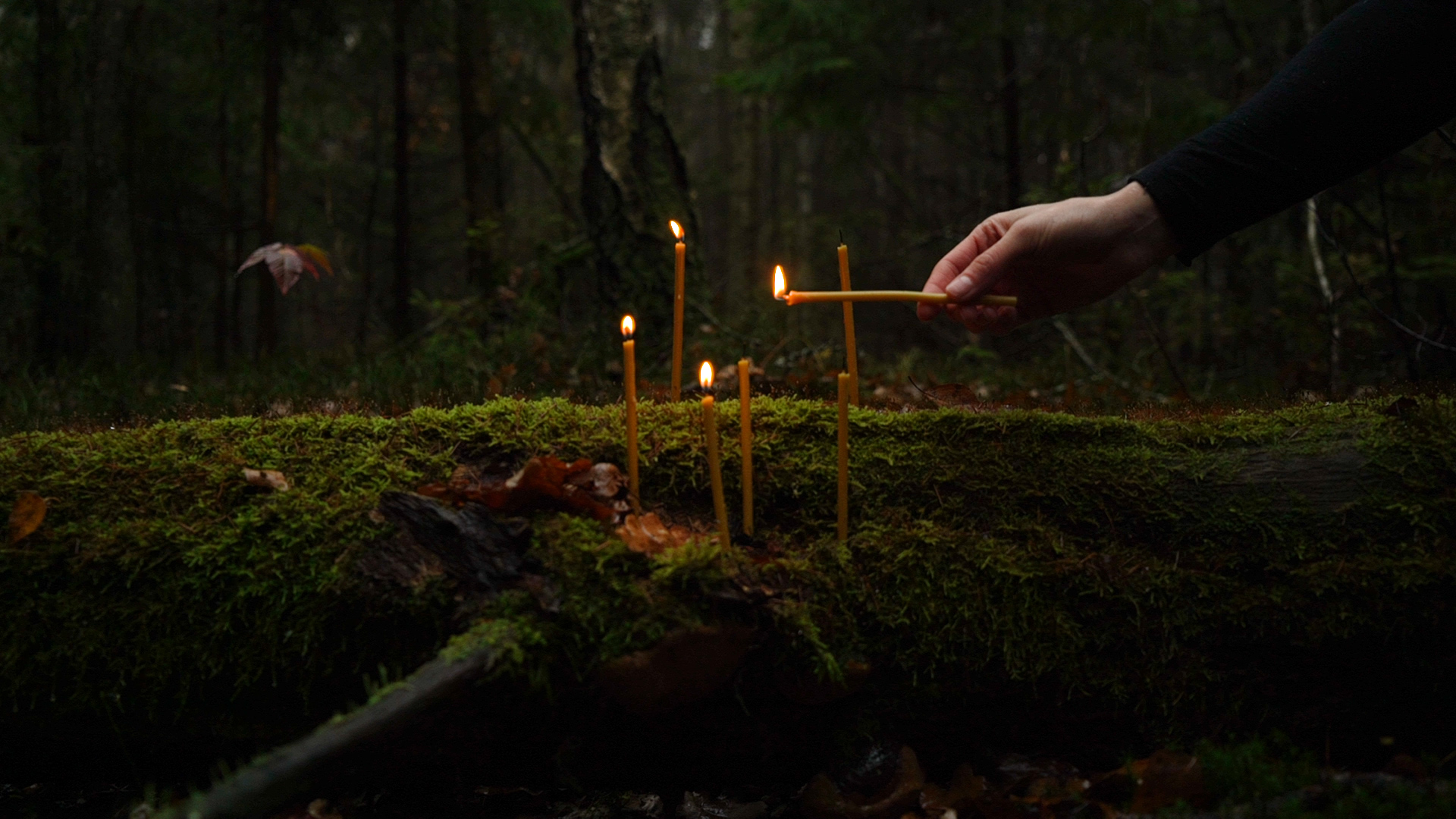 Image: Solastalgic Soliloquy
Single-channel video still, 2020
Time: 5:24
Shot in the Białowieża Forest, Glasgow, and Regina's Ukrainian Cultural Centre.
Credit: Ayla Dmyterko
AYLA DMYTERKO (b. Treaty 4 Territory) is a Ukrainian-Canadian artist based in Glasgow, Scotland. Upon completing her MFA from the Glasgow School of Art (2020), she was awarded a Fellowship at the Glasgow Sculpture Studios and is working toward a solo exhibition at Lunchtime Gallery (Glasgow). Previous exhibitions include The Tale Began with a Beet at Projet Pangée (Montréal), Ritual & Lore at The Art Gallery of Regina , Hush Hush at the Hague Gallery (Canada) and Intermittence at Gallery Aux Vues (Montréal). Her work was recently featured in KAJET Journal (Romania), MAP Magazine (Scotland) and Young Artists in Conversation (UK).
I am currently developing a film titled Pour the Fear alongside a series of sustainable painting-sculptural hybrids and stained glass works. I am interested in how emancipatory spectres of ascendence and escape manifest recurrently at moments of social precarity, and how artists and images are employed as mediums. This body of work expands on research surrounding Solastalgia, a neologism that describes existential distress caused by accelerated the decay of the earth's ecosystems; a singular malady of a much wider spectrum caused by the Anthropocene. Invested in the de-colonisation of this era, I hope to shed light on narratives of emancipation rather than apocalyptic thinking that pins the accelerated decay of this geological epoch onto all people. Through critical re-imagining, I believe that folklore can survive among congregations not defined solely as culturally specific, but through entanglements of epistemologies interested in intersectional dialogue and education.
JANE HUNTER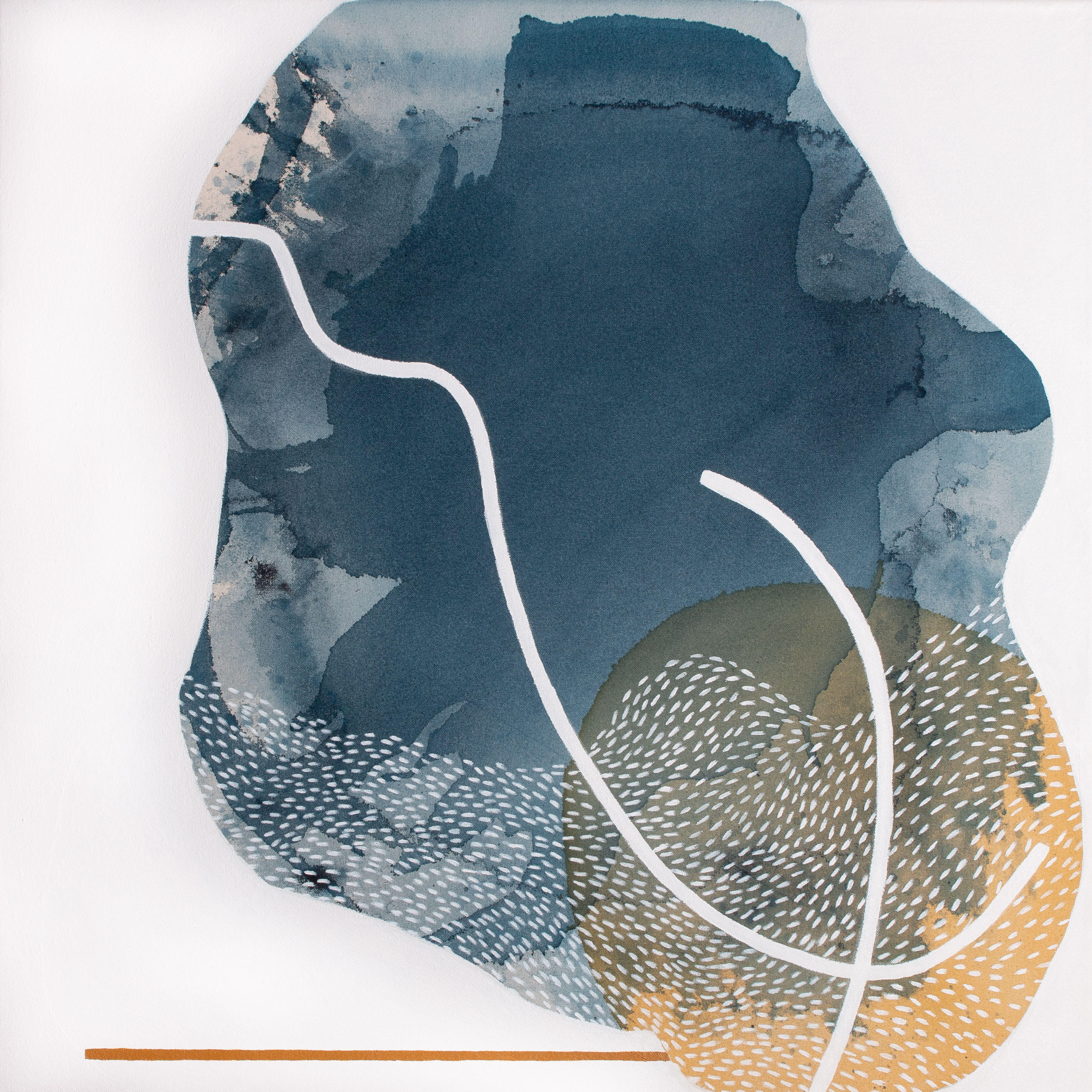 Image: Embraced
Acrylic inks and paint on raw canvas 71cm x 71cm
Credit: Jane Hunter
Working from my studio in one of Paisley's historic thread mills and using a variety of different materials, including acrylic, watercolour, inks and pastel, I make paintings which speak of my experience in and connection to the landscape. I am interested in the interaction between humans and the natural world. How we, both from an individual and a wider societal perspective, seek to create some kind of stability, assurance or control, within the seemingly unpredictable or unknown forces of nature.

Recently I've undertaken a period of development in my practice, spending time reflecting on the work I've made and considering where I want to take it next. For many years I used woven textiles as my primary medium, however over time I have become drawn to exploring new materials and ways of working. After a lot of learning and experimentation I've found that using paint allows me to work with much greater spontaneity and expression. Abstracting line, form and colour, found in topographical or geological maps and drawings, alongside organic fluid shapes. The fundamental inspirations of landscape, geology and maps remain constant in my work and are what continue drive my practice regardless of medium. However, this new way of working encourages me to go beyond the structure of the landscape and speak more deeply of our relationship with it.

I'm really excited to be pushing on with a new body of work this year and will be crossing my fingers that people will be able to see it 'in real life' sometime soon!
BECS BOYD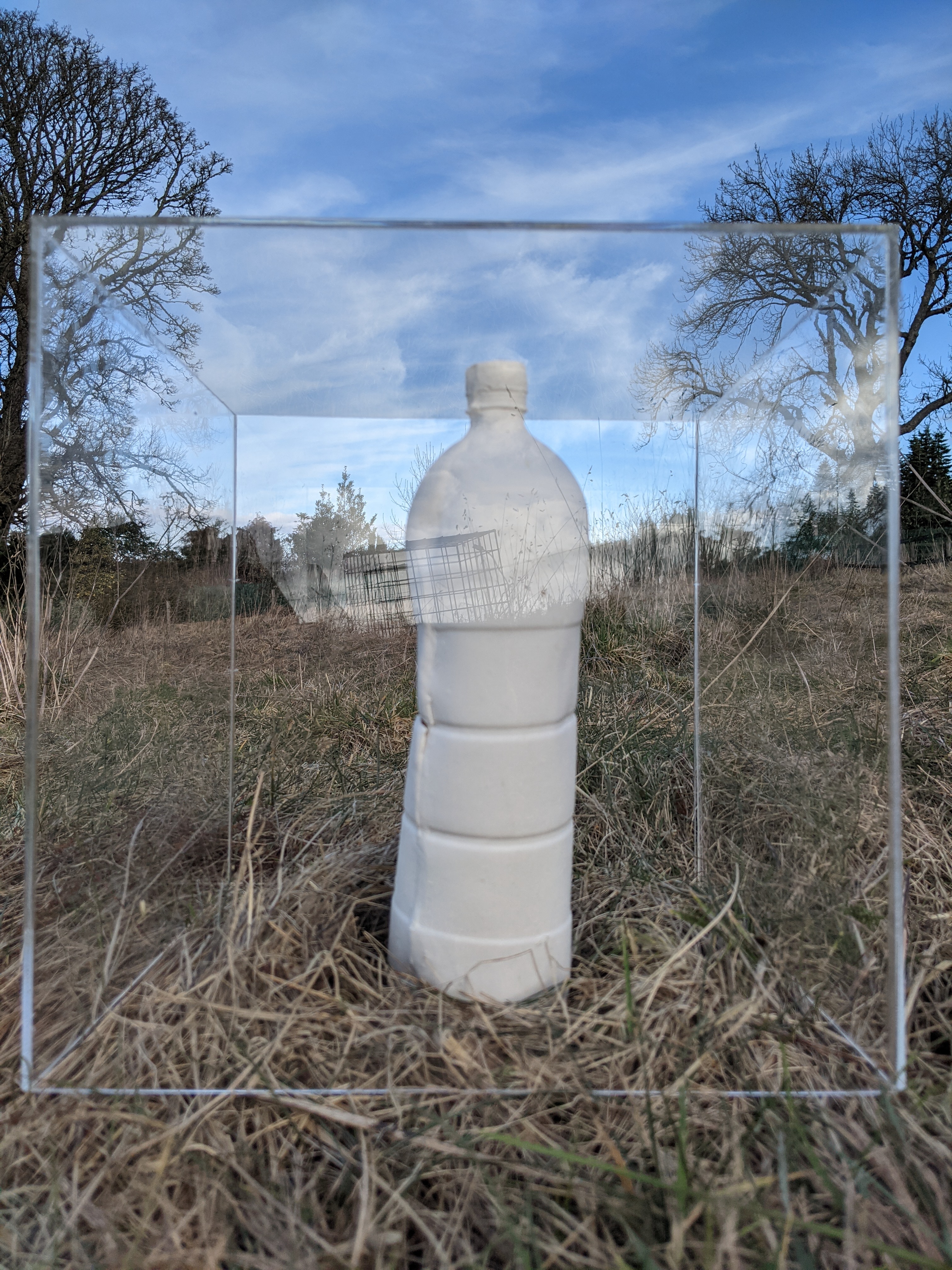 Image: February 2021
Water-eroded porcelain, acrylic.
Credit: Becs Boyd
I am an artist and writer in the Highlands and my work as an ecologist feeds my practice. I
use material and process to challenge narratives of control in a physical, inherently
unpredictable world. I feel a need to probe my own identity at the edges of uncertainty, and
I love the creative energy of vulnerability and what remains unknown, unexpected and
unresolved. I won the New Highland Contemporary 4 award and have exhibited widely,
including a solo show on Art North's Projectroom 2020. Collaborative creative engagement
projects include Journeys In the North 2018 and Northern Exchange Iceland 2016.
Much of my work explores materiality as uncertain but transformative. I am fascinated by
touch and the physicality of time in relation to daily ritual and natural processes. In a
Covid/Climate aware world, I am currently exploring changes in how we engage with space.
The pandemic has disrupted familiar binary 'silos' - domestic/professional, human/natural,
inside/outside, real/virtual. Tensions between freedom and constraint have been
heightened as we have negotiated social spaces like dancers, using a range of 'tactile', non-
visual senses. Space has become both a potent presence and a transitional, provisional and
creative material, creating openings for fresh exploration.
JULIE-ANN SIMPSON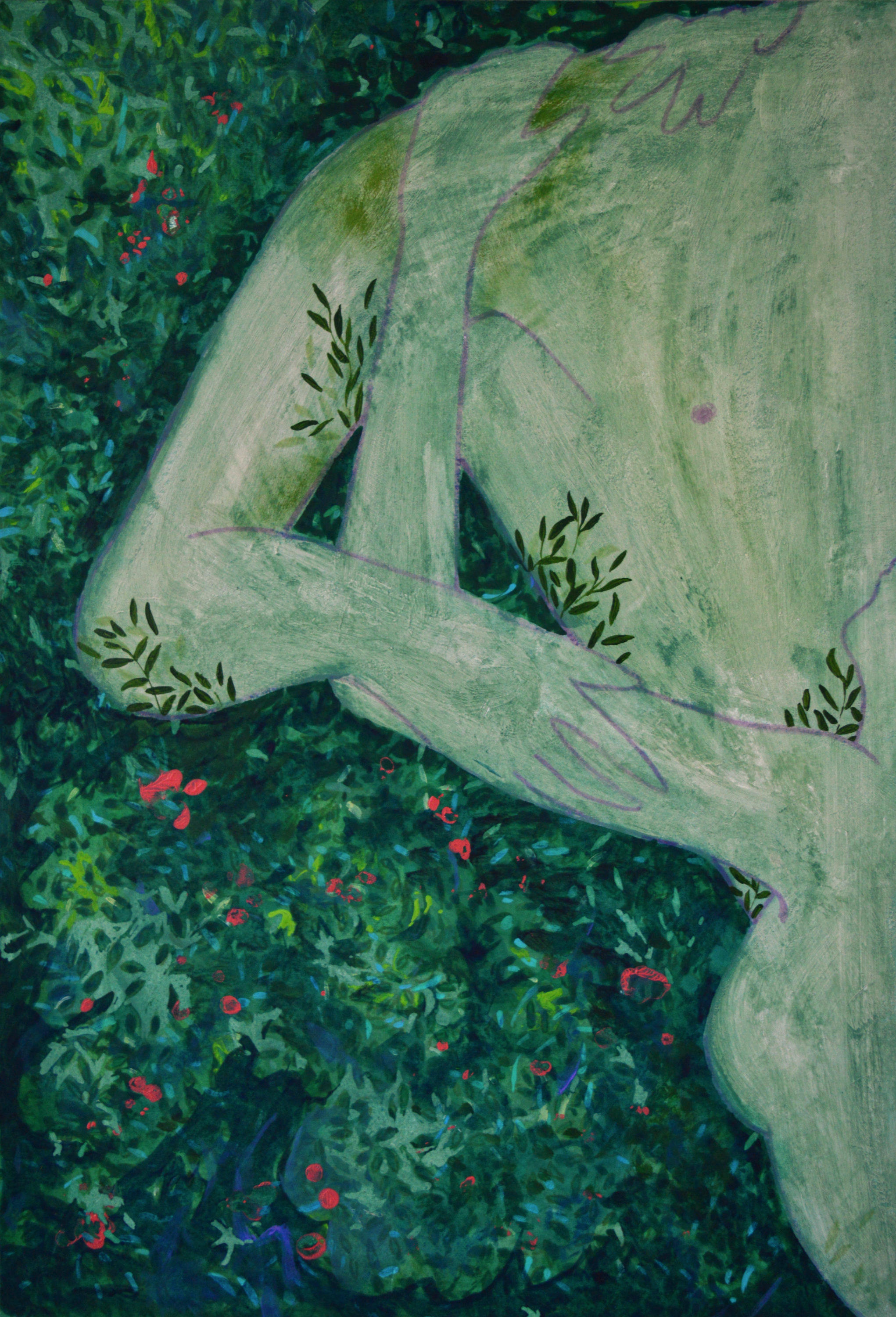 Image: Green Man, 2021
25 x 36cm, acrylic and gouache on Arches
Credit: Julie-Ann Simpson
"I'm a visual artist, primarily working in painting and drawing, based in Glasgow. I'm also an occasional lecturer, writer and curator.

After years of making work considering our emotional resonance with place and the sublime, my latest work has regained a figurative element. Placing these figures in this strange, abstracted landscape I am trying to better understand my relationship with the natural world whilst also unpacking the potential narratives that emerge from the images, cultivating a kind of personal mythology."
SIOBHAN MCLAUGHLIN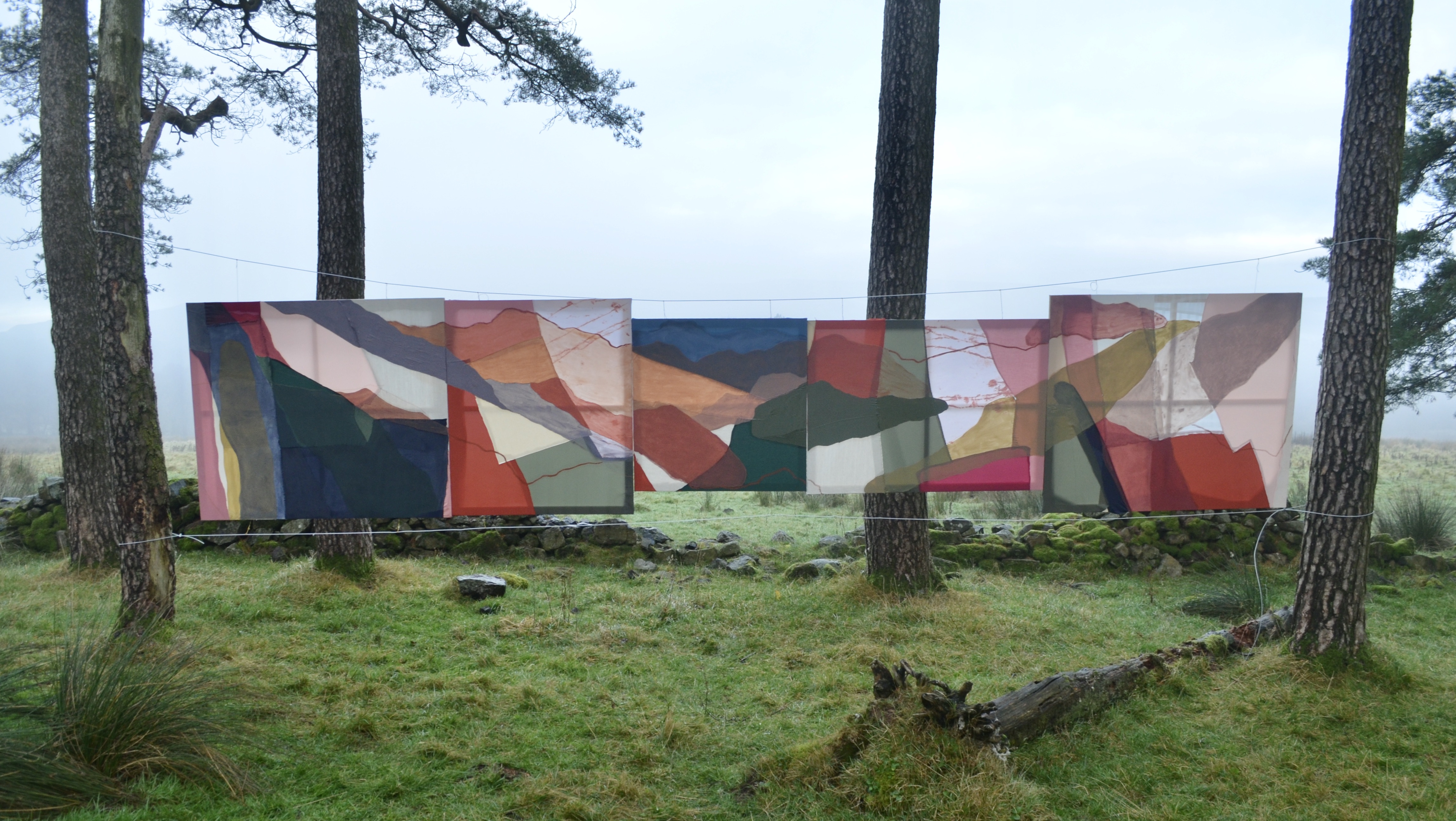 Image: Landscape in Lockdown
Film Still. Featuring 5 panel painting, Glen Muick. 130 x 634cm.
Oil bar and oil paint on mixed materials.
Credit: Siobhan McLaughlin
Siobhan McLaughlin is an artist and freelance curator based in Glasgow. She graduated from MA Fine Art at Edinburgh College of Art in 2019 and has since been awarded the inaugural SSA Wilhelmina Barns-Graham Award at the RSA and a film commission from the British Art Network, soon available on the Tate website.

Since graduating, I've continued to evolve my abstract-landscape paintings based on my sketches of Lochnagar in the Cairngorms, following a walk from Nan Shepherd's book The Living Mountain. I've been re-examining my interest in this walk, the first hike I managed a year after a car accident, and exploring honesty and vulnerability through reading, drawing, writing and painting. The subsequent PTSD and physical pain altered how I navigated and viewed the landscape, resulting in an interest in memory and experience. Initially reluctant to openly talk about mental health, I've found that through the sensory experience of walking, translated into the physicality of large-scale painting I'm able to process my sense of place in the world.
Recently, I've explored how I can evoke the tactility of my experience of landscape digitally, through a contemplative film of my painting Glen Muick. Hanging this 20-foot long painting outside in the landscape, with light shining through the materials, really transformed it. I'm thinking a lot about slowing down, appreciating the landscape around us and new ways of seeing painting. This has sparked more ideas about how to expand my painting to physically exist within the landscapes that inspire them.
https://www.instagram.com/siobhanmclaughlinstudio/
JACOB LITTLEJOHN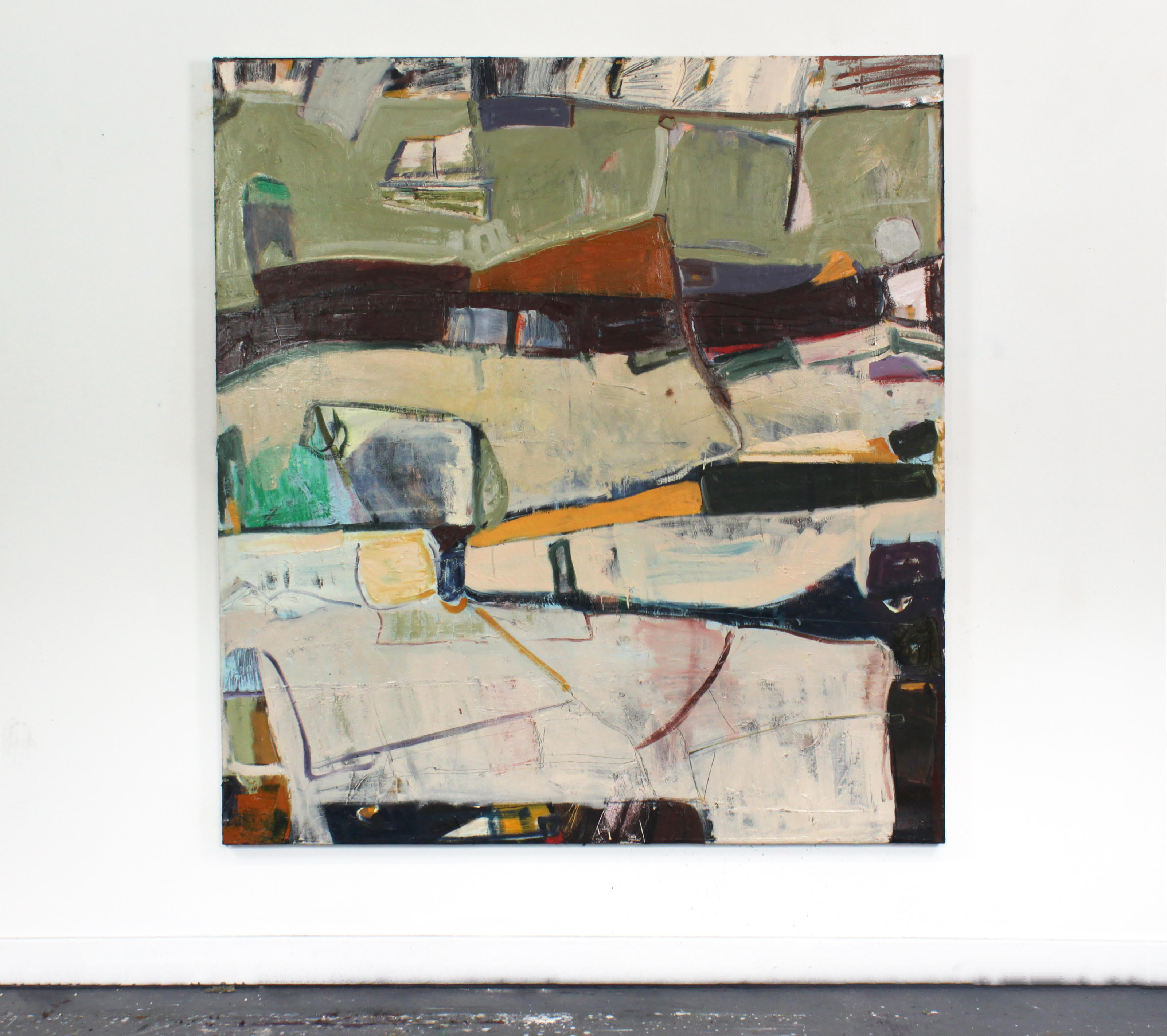 Image: Untitled 220
Oil & charcoal on canvas
150 x 140 x 5cm
2021
Edinburgh-based painter Jacob Littlejohn is a graduate of The Glasgow School of Art where he received a 1st Class in BA Painting and Printmaking. Jacob's work focuses on the impact of place and how this can direct an individual. This materialises through a profound interest in scale, medium, technique, composition and colour. Jacob has recently completed the fully assisted Graduate Residency programme at Leith School of Art. Since, Jacob has received a fellowship award to study at The San Francisco Art Institute where he aims to receive an MFA in Studio Art.