Late last year we invited two artists to participate in From One To Another, a partnership with the Wilhelmina Barns-Graham Trust, Borlase Smart John Wells Trust in Cornwall and Marchmont House.

This project was developed in recognition of Wilhelmina Barns-Graham's connection to both Cornwall and Scotland, with the idea to connect the selected artists and encourage dialogue around issues of practice and place across the breadth of the United Kingdom. We were thrilled to have artists Rachel Duckhouse and Andy Harper take part. Rachel, who is based in Glasgow, spent a month as artist-in-residence at Anchor Studio (run by Borlase Smart John Wells Trust) in Newlyn, Cornwall; and Andy, who is Cornwall-based, enjoyed a month-long residency at Marchmont House in the Scottish Borders.

You can read about their experiences below.

---
Rachel Duckhouse
October 2021

I live and work in Glasgow, but I was in London when I applied for this incredible residency. Overwhelmed by tube stations and traffic, the pull to the open horizon of Cornwall was strong. I just wanted to be there and walk and see what happened. I took a sketchbook and walking gear and not much else.


Anchor Studio in Newlyn is idyllic. Its history is remarkable and its restoration (by Borlase Smart John Wells Trust) is a beautiful endeavour. This is the same window that Wilhelmina Barns-Graham, Ben Nicolson and countless other artists have looked out of – over Newlyn harbour, across to Penzance, and far out to sea. There's a wonderful sense of history here, and of artistic life through the centuries, but it also has a very strong sense of presence and future.

I either walked or drew every day for the month of October. Newlyn is right on the Southwest Coast Path – over 600 miles of walking track stretching right around that furthest tip of coastline – passing through old fishing villages, golden sandy beaches and rugged cliff edges – but always where the land meets the sea surface. This meeting/movement is something I've thought about through drawing for a long time – and those coastal walks became ways to observe, experience and imagine those dynamics in this particular place.


I walked from the studio to Land's End and back – camping along the way. I could constantly watch the sea and its horizon as the landscape underfoot changed, as did the light and the air.


Back at the studio, the memory of these walks began to distil and came out as quite unexpected drawings in the sketchbook. The drawings coming out of this residency are built upon memories of another incredible residency in The Outer Hebrides, that had distilled into drawings of water and architecture. These two experiences and places have become connected through newly developing drawings that I'm working on now.


Some of the architecture around Newlyn and Mousehole harbours have begun to appear in recent drawings since getting back to Glasgow. Not as representational landscape features, but more as lost and dislocated things – steps, bridges, barriers, past, present and future, that rise above or sink below the surface. I've been thinking a lot about hidden shipwrecks, the Runnel Stone, rising sea levels, and the RNLI.

Through the Harbour (Newlyn) pen and ink drawing

Porthmeor, Glass installation by Abigail Reynolds, Porthmeor Studios, St Ives

Meeting other artists and visiting other studios was another unexpected delight that I've taken back to Scotland with me. Andy Harper, an amazing painter, was the artist based in Cornwall selected for the residency in Marchmont House. He showed me around Porthmeor Studios in St Ives, and told me a bit about the sea from a surfer's point of view. These meetings and conversations have stayed with me and will undoubtedly have some conscious or subconscious effect on my memories and drawings of Cornwall.
Thank you to everyone who created and supported this fabulous residency:
Visual Arts Scotland, Borlase Smart John Wells Trust, Wilhelmina Barns-Graham Trust and Marchmont House. I'm very lucky and grateful to have been selected. It's had a profound influence on the work I'm currently making and I hope I'll be able to share some of it at some point in the future.
---

Andy Harper
November 2021
Rachel Duckhouse, who normally resides in Glasgow, was going to stay for the whole October at the recently renovated Anchor studio in Newlyn. And I would travel to The Scottish Borders to spend all of November at Marchmont House Creative Spaces, set up in 2020. I met Rachel several times whilst she was staying in Cornwall and I was preparing to go to Scotland the following month. We had some great conversations about our work, coastal walking, the sea, surfing and expectations for our respective residencies. Our discussions helped me to really hone what I thought I could achieve in a month and then begin to organise materials and pack accordingly.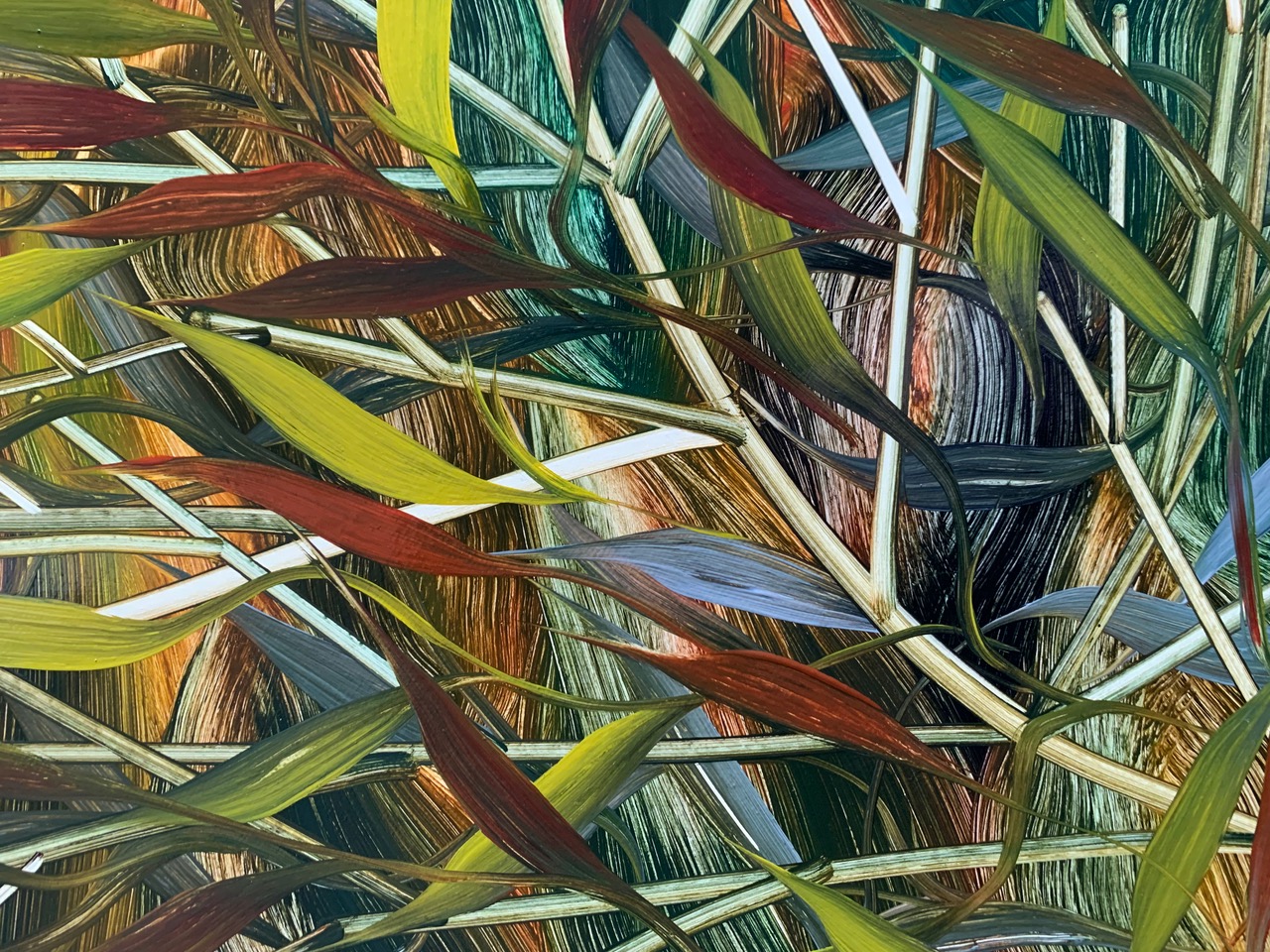 I'd planned to do a bit of everything. I wanted to complete a dozen or so small paintings and a mid-sized painting or two for a show in the U.S. early next year, get to grips with a few books from the 'to read' bedside, and capture some video and sound footage for a possible AV work. I also promised myself to engage with The Borders area in which Marchmont is situated in ways not necessarily related to my art practice but would give me a better insight into the area and people, so I packed running stuff to do the Park Run in nearby Kelso each week and choose a surfboard that would fit easily into my car with the appropriate hooded wetsuit to tackle the winter swells of the North Sea.

After a 12 hour drive from the SW to the NE and into Scotland, I finally turned off the A697 which runs up to Edinburgh onto a small road that my sat nav promised was the way to Marchmont. I felt as though I was approaching the house from behind, it never really came into view, surrounded by trees the road circumnavigated the house as I negotiated cattle grids and pheasants slow to move off of the road. My journey seemed to slow down the closer I got, so when the road finally swung me around to confront the house and it's grand driveway it was the visual equivalent of a trumpeted arrival.

I found the house intimidating at first, everyone was so welcoming and I settled into the super comfortable cottage where I was staying quickly, so the awe for the house and its surroundings was more psychological and certainly self imposed. I gave the house a wide berth, my daily walks to get to know the surrounding landscape seem to swing wide of the house and then spiral inwards, as though I was constantly approaching it but never head on. I mostly kept to well trodden paths but sometimes they seemed to run out and never one to back track I ploughed on and was forced to hop over a fence or do a little orienteering through a denser patch of woodland before finding a more legitimate path. Before leaving for Scotland I had been reading Nick Hayes' 'The Book of Trespass', where the author discusses the politics and ethics of land ownership in England. With the demise of common land his numerous rural walks involve some trespassing, often in the grounds of large stately homes. This set the tone for my own walks, the lack of gates in fences, public footpath signs, or any other walkers left me sure some part of my meanderings must be equally illegal as Hayes'. As I rambled onwards, I rehearsed various bogus excuses for my presence. It wasn't until the 2nd week that one of the house team casually mentioned 'right to roam', and I realised my rather foolish mistake…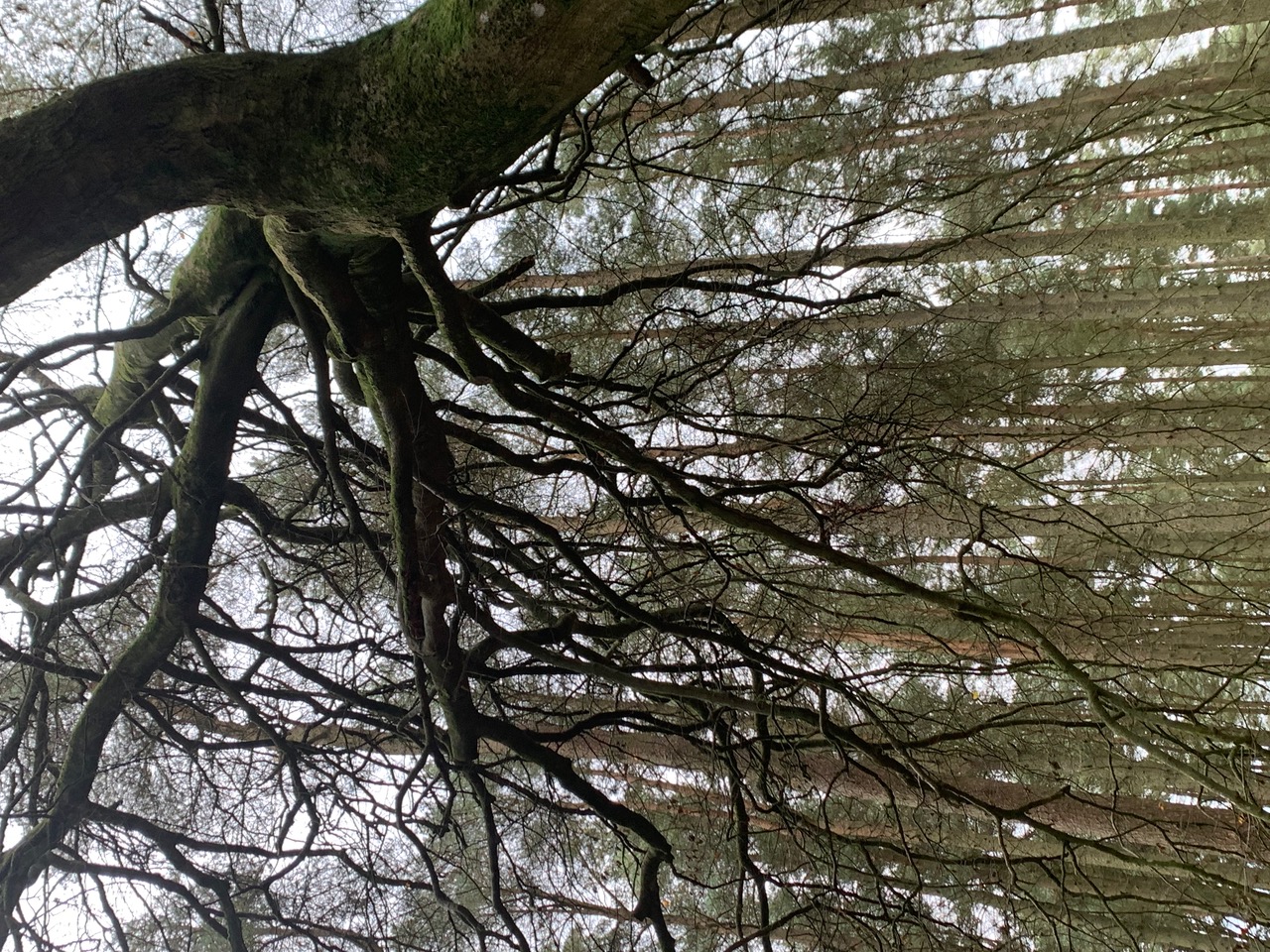 After a week or so, I had established how the sun swung around in the day and where it went down slowly but prematurely, I had a sense of the various lumps of land and valleys that surrounded me. I began to set up the studio for some painting, positioning and repositioning easels, lights, tables with palettes, paints and brushes etc. Like a cat that tampers the ground with their feet before they finally lie down to rest, it similarly takes me time to settle in to a new studio. However when I did start to paint I found the marks I made were a little unfamiliar. A sense of place – how an environment affects an artist's practice – is a well trodden trope but I surprised even myself that this romantic notion was playing out in my own painting. The sheer number and variety of trees across the Marchmont estate were such a powerful presence and so absent in my own part of Cornwall where the land is too windswept for anything as tall and gracious as these beings. The trees created different kinds of spaces, their architectural effect on each pocket of land was unique, open and expansive one minute, closed and confined the next.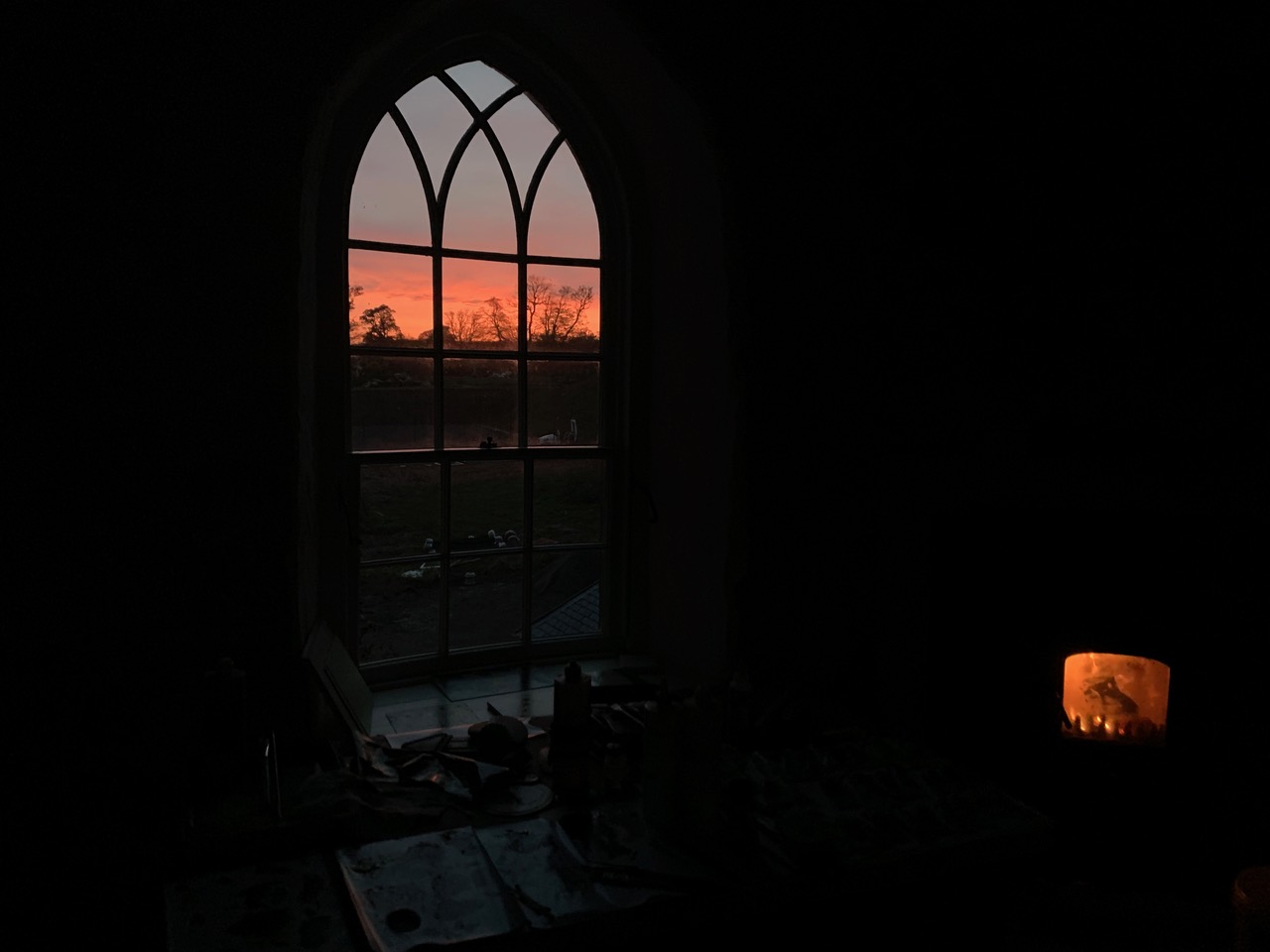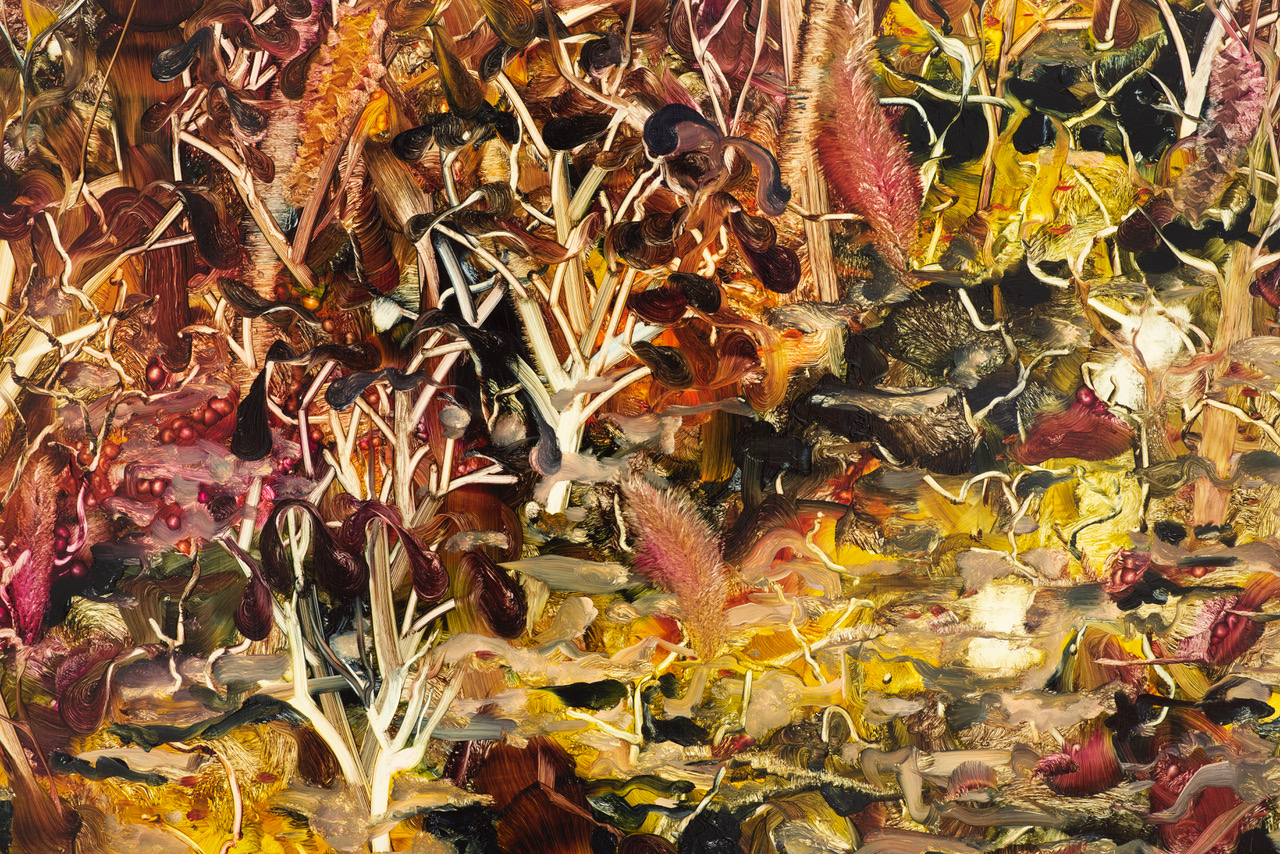 As a keen surfer I kept my eye on the swell forecast for nearby Coldingham Bay, Belhaven and Pease Bay, I surfed them all in the end, some more than once. I chatted in the sea with students from Edinburgh and Durham, a carpenter from Glasgow, a mountain guide who if it wasn't for Brexit would have been working for the winter in Spain, instead he'd taken up surfing to make the most of being on the east coast in winter when the North Sea comes alive.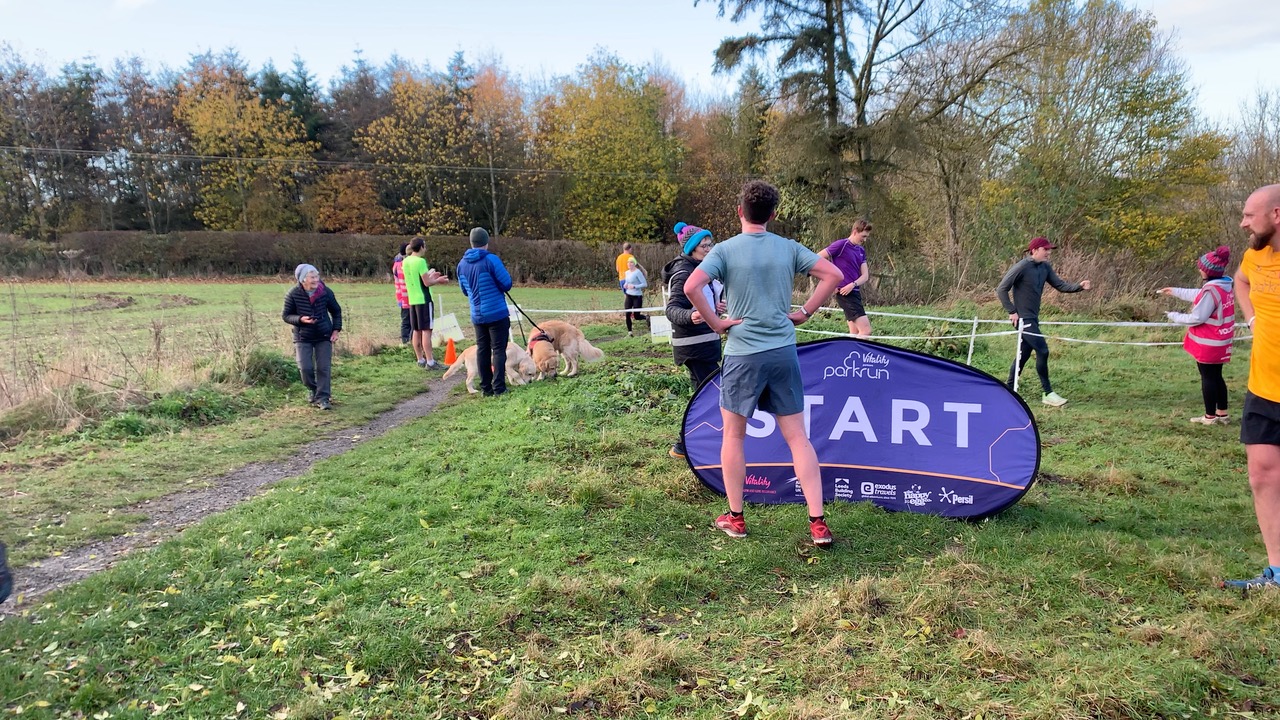 I ran the Kelso (Wallaceneuk) Park Run each Saturday morning, only missing the last Saturday due to Storm Arwen and fallen trees blocking my escape from Marchmont. The storm struck on Friday evening and I had decided to make one last painting that afternoon before turning to video and sound work. Half way through the painting process, which because of the chosen materials had to be finished that evening, the lights went out, came back on briefly and then went off for another 5 days (although I didn't know that at the time). Luckily I was able to finish the painting under the emergency lighting on the stairwell just outside my studio door. The roof of the tower, with every gust, sounded like it was going to be ripped off. It wasn't until morning we all realised just how destructive the storm had been. It was hard to get about, all the roads around Marchmont were blocked with fallen trees and reports of huge areas being flattened started to come in. Trees two or three hundred years olds laid horizontal - splintered like kindling. Some video footage I was taking in amongst the trees before the storm hit now seemed like they were from another era, the landscape had changed so much, and the project took on a more sombre tone. I had planned to focus on video work in my last week and although with no heat and little access to charging points I was still able to get more footage and continue the video project but now with fallen trees instead.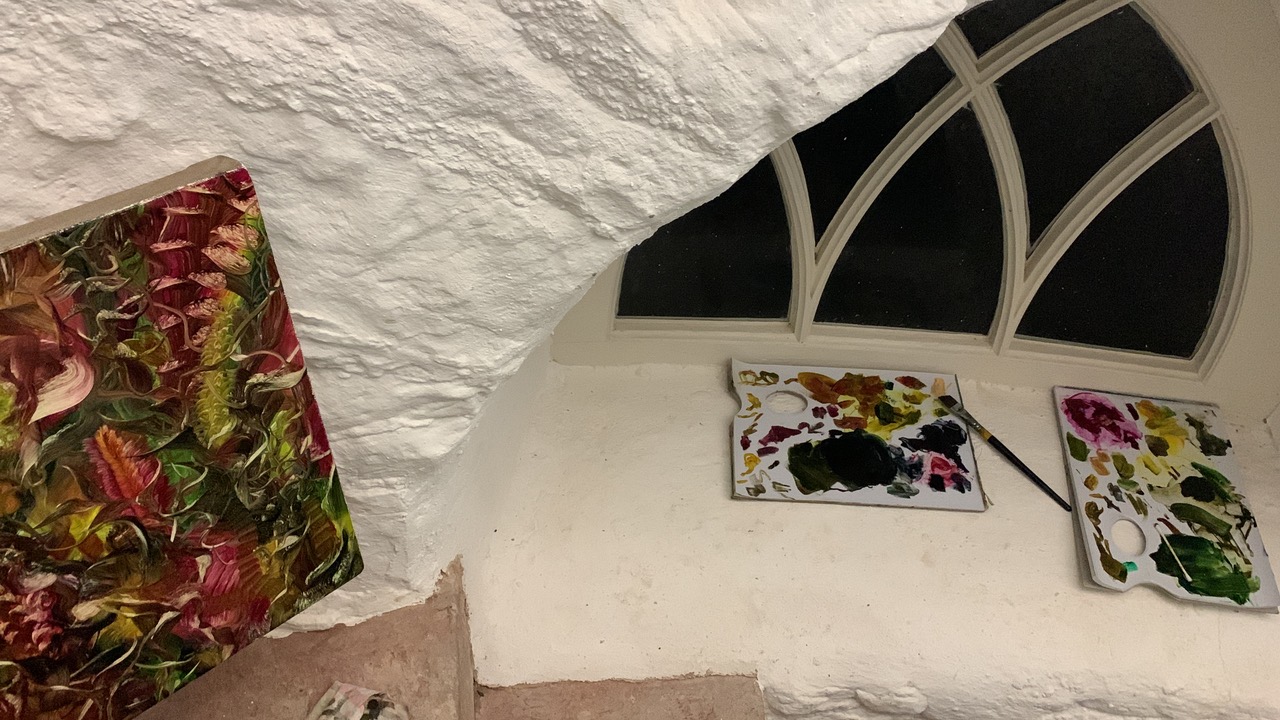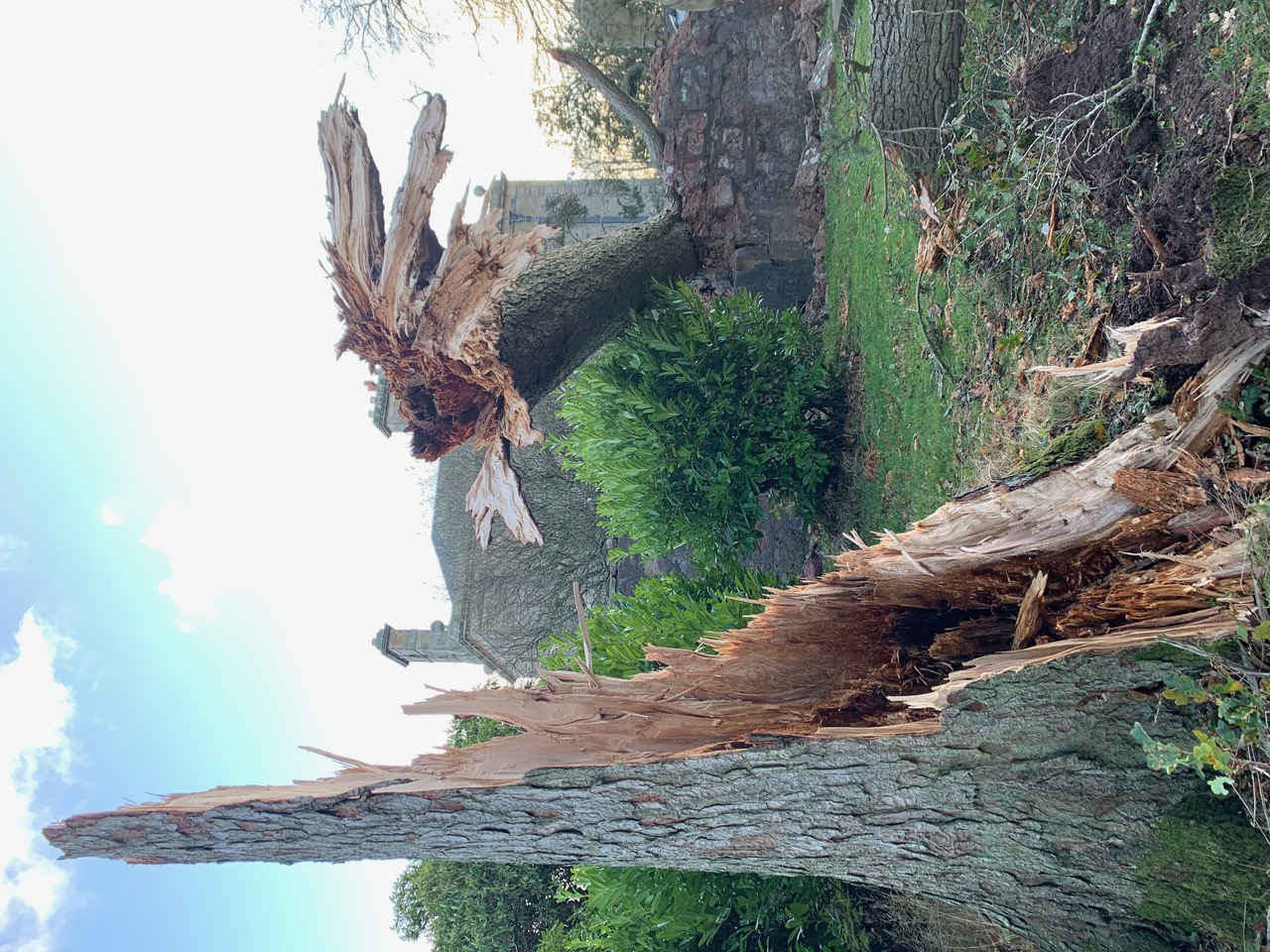 The lack of power or heat, did however bring the whole community closer together, all were saddened by the loss of trees and damage to property, but all showed great kindness and generosity to one another. The House hosted an impromptu meal and with the aid of a generator kept our various devices charged up. The artists and makers of Marchmont's Creative Spaces all pitched in, pooling resources, salvaging food stuffs from failing fridge-freezers, and cooking together on open fires. The studios and workshops have the most gorgeous communal spaces of any studio complex I have visited, a large beautiful room with a fire, dining table and chairs; we all gathered there in the evening by candlelight to make the most of what otherwise would have been a fairly grim few days. This experience deepened connections and increased our understanding of one another. In a way, although I would have preferred to have a little more warmth, it was the perfect way to end the residency. The power returned just as I was getting into bed on my last evening, so at least I had some light to pack the last few things into my car at 4am the next morning, setting off early for the long journey home.

I still have footage to edit and sound recordings to play around with, the effect on my painting practice will be far reaching I am sure and I won't fully appreciate this for many years. I look forward to returning to Marchmont at some point, to see new trees maturing and replacing the holes created by Storm Arwen and catch up with the artists and makers of Marchmont I have met and some of the new ones who will benefit greatly from this great community as it develops over the next few years.

---
To learn more about Rachel and Andy's work, head to their respective websites:
www.rachelduckhouse.co.uk
www.andyhcape.com